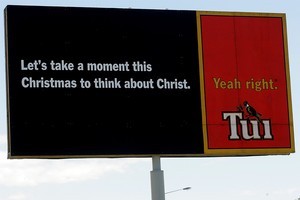 Mark Irving, advertising company director on what makes a good billboard and why there are so few good examples out there.
Billboards offer a fantastic opportunity to do something big and bold that gets people and the media talking. I think some of the best billboards are for Tui Beer - the "yeah right" campaign. Because of the simplicity of layout, the visible logo, the humorous, short, readable headlines and the reluctance to change this winning formula, the ad agency and client deserve a big high five.
It has been no coincidence either that Tui has been one of the most well recognised and biggest selling beers in its category.
The best part of the billboard is that you can drive past, read it, understand it and perhaps have a bit of a laugh. And just to clarify, I have never worked for the agency that holds the Tui account, however I have long admired the taste of this wonderful beer crafted from pure New Zealand hops, giving that unmistakable full strength, refreshing taste.
But there are many billboards out there today, by prominent ad agencies for their even more prominent clients, where the billboard rules have been broken. In the last month, I've seen a billboard with a 35- word headline. Try reading this as you're driving past at 80km, texting your girlfriend, slurping your coffee and half admiring yourself in the mirror.
The only reason I counted the words is because I actually pulled over and read it. Another prominent client's billboard used type, so small and crammed together, I struggled to read it, let alone understand the idea. And that was from about 20 metres away.
Other examples include billboards with so much information on them, the eye just doesn't know where to look, let alone have time to look. It's one thing for an agency art director to make it nice looking on the Mac with fancy type and nice colours but it's another thing to transfer this onto a billboard size. That fine type and overly detailed visual can become very hard to read at 60km/hr.
Billboards are about simplifying the message to the minimum elements - logo, visual, headline and contact details. It's actually harder to do this than to try and put as much information on as you can.
Many agencies ignore these basics for a number of reasons. Often it's out of ignorance or they don't have the courage to tell the client they're heading down the wrong path. As a rule, try and have an idea, using an eye catching headline with no more than 12 or 13 words, or an eye catching graphic, complete with logo and contact details.
People outside the advertising industry either understand the message or they don't. To many, Billboards are a visual eye sore and if it doesn't catch their attention or it's too cluttered or too small, it's simply a waste of money. It's a waste of client and agency creative time, a waste of money for the billboard space, which is then wasted on a potential customer.
The general public simply doesn't have the time or desire to try and read a billboard four or five times in order to understand the message. They're too busy with the concerns of everyday life and getting to work on time.
If an agency isn't getting the billboard basics right, chances are they're not getting the print, TV, radio or internet advertising right either.

Mark Irving
Mark Irving is the Director of Range Advertising and Communications.