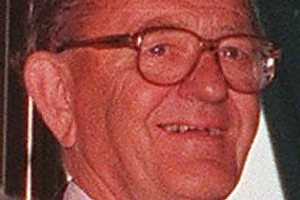 Sir Ron Trotter was already a titan of New Zealand industry when I had my first major interview with him in early 1985.
As a neophyte business reporter, who had left the excitement of the parliamentary press gallery after the Lange Government was elected in late 1984 to drive the long defunct New Zealand Times business pages, it's fair to say I was slightly intimidated by the fear that my rawness in the new job would find me out.
I am sure I paid more attention to preparing for that interview than many others in my subsequent career.
But if Sir Ron perceived my greenness - and he was certainly no one's fool - he did not let on.
I had a fabulous time: Talking with him about his ambitions for New Zealands's first real multi-national, Fletcher Challenge. It was a company whose fortunes we all followed with avid interest as it expanded offshore and bought a slew of assets from the Government in the 1980s wave of privatisation.
I remember walking down The Terrace in Wellington with him one afternoon after interviewing him at Fletcher's office. "It's all up for grabs Fran," was his frank comment on the Labour Government's sales programme, safe in the knowledge that my tape-recorder was off.
Then there was the "scoop" I wrote on the formation of the NZ Business Roundtable.
The group of business leaders Sir Ron corralled to champion change in the New Zealand economy. He just had to start talking and you could sense the palpable excitement that Muldoon's Fortress NZ was gone and New Zealand was finally joining the world.
Another scoop came when Sir Ron invited Auckland economist Kerrin Vautier to join the Fletcher Challenge board. In those days having a female on a major publicly-listed board was revolutionary.
There was the occasional tetchiness. In one speech Roger Kerr delivered on Sir Ron's behalf at the annual economists conference in Dunedin, I jumped when I found myself lumped in with two other NZ Times journalists Al Morrison and Linda Clark - both of whom went on to have stellar journalistic careers - as enemies of progress because we had drawn attention to the downside of the economic reform programme.
We used to joke that conversations around Sir Ron's dinner table must have been interesting.
As I grew in journalistic stature Sir Ron became a much more challenging subject to interview.
Even when he differed with your approach, he was gentlemanly. They don't breed them like that these days.