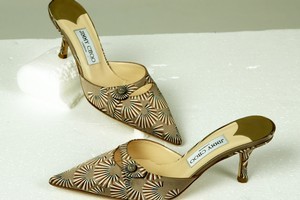 LONDON - Owners of the luxury shoe brand Jimmy Choo are evaluating strategic options for the company, which could lead to a sale or a flotation.
They are reportedly in talks with potential investment banking advisers which could result in a mandate for a full strategic review.
Options include selling the company, which would be expected to fetch between £450 million ($982 million) and £500 million.
The business could also be prepared for an initial public offering. Representatives of Jimmy Choo and its largest investors could not be reached for comment yesterday.
Choo himself is a Malaysian-born designer who is based in London and sold out of the group in 2001. He founded Jimmy Choo in 1996 with Tamara Mellon, a former socialite and accessories editor with Vogue.
The group's shoes are hugely sought after and their appeal only increased after they were seen on the feet of celebrities including Beyonce and the stars of Sex and the City.
Last year, the company's rise was charted by a book called The Towering World of Jimmy Choo: A glamorous story of power, profits and pursuit of the perfect shoe.
The company now has more than 100 stores across 32 countries, and is one of the hottest brands in fashion. It has expanded into leather goods, fragrances and sunglasses and last November forged a partnership with H&M to broaden its audience.
Mellon remains president of the company and holds a stake of just under 18 per cent. The majority shareholder is private-equity group TowerBrook Capital Partners, which bought its stake in 2007. At the same time Spain's Gala Capital also invested.
TowerBrook said when it bought in that it would help to transform Jimmy Choo into a £1 billion business within five years.
The brand is no stranger to private-equity ownership. When Choo sold out, cashing out his half of the business for £8.8 million, buyout specialist Phoenix Equity Partners took a stake.
It managed to almost quadruple its £9 million investment when it sold out to Hicks Muse Tate & Furst, now called Lion Capital, in 2004.
- INDEPENDENT