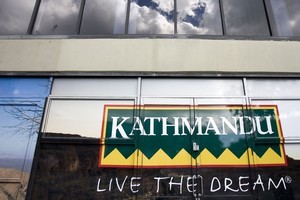 Market commentators fear this week's missed forecast by Kathmandu could signal tough times across the retail sector.
The outdoor clothing and camping gear retailer, which listed in November last year, said it would miss forecasts made in its prospectus, prompting its share price to plunge 11.22 per cent to a new low of $1.82.
Tyndall Investment Management's Rickey Ward said the downgrade should not have come as a surprise given how volatile and challenging the retail market was at the moment.
But he said it could set the tone across the retail sector and could also reflect the pressure all domestic-focused businesses are facing.
All eyes will be on Briscoe Group, which is expected to report its results in the next week, to see if the trend continues.
Kathmandu shares, which dropped 11 per cent on Wednesday, closed down 6c at $1.76 yesterday.
IN ON THE PARTY
Market players have expressed surprise at the involvement of McDouall Stuart in partially underwriting Allied Farmers' $19.3 million capital raising.
Andrew McDouall is both a director on Allied and the main shareholder of broker/investment bank McDouall Stuart which has underwritten the deal by $9 million.
Usually these types of conflicts of interest are avoided when it comes to capital raising but perhaps there was no other choice in this situation.
Stock Takes will be keen to see whether Andrew McDouall reveals the fee his company will be taking for doing the deal in the soon-to-be-released prospectus.
WIN WIN?
Stock Takes is also interested to know which institutions and professional investors are involved in the institutional placement.
The amount - just $2.25 million - is so small that most institutions would not have been able to find the money to allocate to it.
But it seems the big guys in town, who typically get a look in at every placement on offer, were not even asked to take part.
Some suspect it may be one or more institutions who already own shares in Allied because the placement offer would be quite attractive for them.
Unfortunately it's not clear who the current institutional investors are from the share registry list.
But Stock Takes hears there was nothing to stop those involved in the placement from selling their other shares in Allied before the new shares are allocated.
That would potentially net those investors an instant gain by allowing them to sell out at around 4c per share in the last couple of days knowing they will be able to buy back in at 2.5c.
HANGOVER
Whatever way you look at it, it's tough going for the former Hanover investors who now face dilution if they don't cough up more cash to buy their rights.
Allied chief executive Rob Alloway is hoping investors who can't afford to buy the rights will be able to sell them but by the time a brokerage fee is paid there probably won't be much left in the hand. Most of the former Hanover investors probably won't even have a broker.
Stock Takes hears some brokerage firms run a mile from one-off transactions because they are time-intensive to set up and don't net much cash.
Some in the market have questioned why Allied didn't decide to pool all the rights that aren't taken up and then auction them as one before distributing the money to shareholders. Allied shares closed steady at 4.1c yesterday.
DEADLINE APPROACHING
The drop in the value of South Canterbury Finance's preference shares (ticker code SCFHA) this week shows just how nervous investors are getting about the company's future as it fast approaches its trustee waiver deadline.
The shares, which raised $100 million four years ago and are listed on the debt market, plunged to a new low of 9c on Wednesday although they bounced back up to close on 10.01c.
South Canterbury has until August 31 before a waiver from its trustee expires although it could yet be extended.
Chief executive Sandy Maier has previously said he was in talks with several parties about injecting new capital into the business but just weeks out from the deadline it seems like it is going down to the wire.
Accounts for the Government-guarantee finance company are expected soon and it will be interesting to see if the company has to make any more write-downs in the value of its assets.
South Canterbury also has two other lots of listed debt in two lots of bonds. One lot of bonds which originally raised $125 million expire in December 2012 and are not covered by the extended Government guarantee and a second $125 million lot are covered by the guarantee because they expire in June next year.
The guaranteed bonds are yielding 19.4 per cent at the moment - not bad for a guaranteed investment and an even better deal for retail investors with less than $250,000 to invest than the debentures offering 8 per cent.
CYNOTECH TROUBLES
Allan Hawkins' Cynotech Holdings looks likely to be suspended from the stock exchange next Tuesday if it fails to file its annual report in time.
The finance firm was supposed to get its annual report in on Monday but has been given five extra working days to get its act together under listing rules.
Asked whether the company was likely to get the report in on time Hawkins said he did not wish to comment.
"We are dealing with the stock exchange operators and our auditors on it."
Stock Takes worries what this could mean for shareholders when the company delists and doesn't have to stick to NZX rules.
Hawkins signalled in January that he intended to delist the company if a takeover bid by his associated company Cynotech Securities Group was successful.
The bid received 78 per cent support from shareholders although only 51.4 per cent of preference shareholders voted in favour.
Hawkins last month signalled that a delisting from the NZAX was on the cards with a listing on another exchange being considered.
But this week he said it was too soon to talk about where the company might end up and it was considering what would be most beneficial for shareholders in each of its four listed securities. Cynotech shares closed steady yesterday at 2.5c.
WOMEN ON BOARD
The Shareholders Association is hoping Fisher & Paykel Appliances will be the first company to take up its proposal to get more women and young people on to New Zealand boards.
The association met with the Ministry of Women's Affairs six weeks ago to express its concerns about the lack of female directors and this week received support from Pansy Wong in getting more women on to boards.
Association deputy chair Des Hunt said it had approached Fisher & Paykel to put forward some names of women directors because it believed a company like Appliances - which obviously has a lot of women consumers - should have a woman on its board.
The company does have one woman but Hunt said that had come more by accident than design because she was a representative of Haier, which got two directors on the board after buying a stake in the firm.
Investors will have to wait until the August 23 annual meeting to see if the company has taken the advice on board.
Appliances could yet produce a surprise - last year it shocked the market by appointing former activist fund manager Simon Botherway to the board.
Hunt said New Zealand was one of the worst countries in the world when it came to having women directors and it had not changed in some time.
The pressure from the association comes as the Australian Securities Exchange moves to introduce gender diversity targets as part of its rules from January 2011.
There are no signs the NZX plans to follow.
TOP JOB
Time is running out to apply for the top job as chief executive of the new super regulator.
Applications for the new Financial Markets Authority boss close on Monday.
Establishment board chairman Simon Botherway won't say how many have applied so far but said the recruitment agency was searching for potential candidates as well as vetting those who apply.
"There has certainly been a lot of interest," was all he would say.
Botherway hopes to get a shortlist together by early September.
The successful candidate may be announced soon after, depending on the conditions of his or her employment.
The FMA is expected to be in place by early next year.