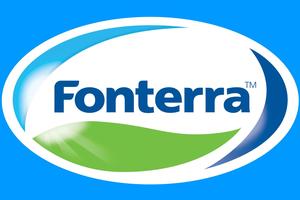 Falling prices and a strong kiwi dollar could hit the multi-billion dollar payout from dairy giant Fonterra.
Fonterra's online auction yesterday made record sales worth $240 million. But the average price of a basket of products fell 8.3 per cent, having fallen 13.7 per cent last month.
The dairy co-operative yesterday said the strong currency and drop in international prices meant the board would review the payout forecast for the 2010/11 season.
In May Fonterra, which processes about 92 per cent of the country's milk, said its forecast payout before retentions for the 2010/11 season was $6.90-$7.10 a kilogram of milksolids.
A $7.10 payout based on stable production levels could be worth about $9.1 billion.
Chief executive Andrew Ferrier said whole milk powder had strengthened slightly for the February to April period "but the New Zealand dollar was at very high levels".
Fonterra was reviewing the forecast in light of the developments as part of its normal planning process, Ferrier said.
"We always said there would be a lot of volatility in the market and we are seeing it," he said.
"It's important in this environment to let our farmer-shareholders know as soon as possible if we think there could be any impact on payout."
BNZ economist Doug Steel said milk production for the 2010/11 season could rise by about 8-10 per cent.
Falling dairy prices made Fonterra's new season forecast a challenge, Steel said.
The latest price drop was the more meaningful of recent months, Steel said.
"It is the fourth consecutive drop but it also comes with a backdrop of a depreciating US dollar," he said.
"The fact that US dollar prices for dairy products have fallen even though the US dollar's fallen, it's telling you that the product itself is actually declining in value, rather than just a currency effect."
The drop in world prices, especially with the New Zealand dollar at US73c plus, put downward pressure on milk payments to farmers, Steel said.
"The $6.90 to $7.10 certainly looks to be quite a challenge at the moment," he said.
"But it is still pretty early days, the milk really hasn't even started flowing in earnest yet in New Zealand."
Dairy was a key driver of the economy and the biggest goods export.
"And if prices fall what New Zealand Inc makes go down, then that effectively makes us all poorer," Steel said.
Fonterra globalDairyTrade manager Paul Grave said product supply was not such a concern anymore in the market.
It was the demand side, particularly what the economy's going to do, that was really driving the equation, Grave said. "We would hope the market would find its new equilibrium in the near-term."
Whole milk powder prices were higher for longer-term delivery than in the shorter term.
"You'd like to think that that maybe sets the tone for the future," he said.
A move to two events a month from next month would provide a more regular price signal.
He said present prices should be attractive for buyers to make them work in their markets.
One would hope that these prices would stimulate demand, he said.
FONTERRA AUCTION
$240 million of product sales
127 participants
111 winning bids
544,000 tonnes of sales expected in next year
8.3 per cent Drop in average price