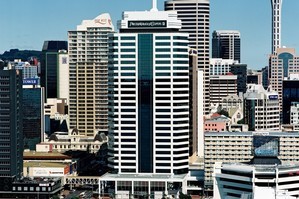 AMP NZ Office Trust's restructuring is taking longer than expected and the landlord is facing leasing challenges, analysts say.
Jeremy Simpson of Forsyth Barr said the process for a corporate governance overhaul and a management fee review was overdue but investors would not get documentation for weeks.
A new chief executive to replace Rob Lang is also due. Amish Vallabh is the acting boss.
On February 26, the trust said it would become a company, change its rules and align unit-holder and management interests, seeking approval by June 30. That has yet to happen. A delay in regulatory authority approval was behind the holdup, executives said yesterday. They hope an extraordinary meeting will be held in Auckland in the next eight weeks.
Buffy Gill and Marcus Curley of Goldman Sachs & Partners NZ called September a "catalyst" month for the trust because unitholder meetings and new structures were expected.
"No update was given on the proposed management fee/company structure or chief executive appointment," they said in a commentary on the trust's annual result out this week.
"However, the unitholder meeting on structure is expected to be held in September with info packs being sent to unitholders early in the month. The new CEO appointment is targeted to be filled by the end of September," Gill and Curley said.
All three analysts expressed concern about lease expiries in the trust's $1.27 billion portfolio and fretted about occupancy in three of the trust's most valuable and biggest Auckland office blocks: 21 Queen St, on the edge of Queen Elizabeth II Square; ANZ Centre, on the Albert St/Swanson St corner and the PricewaterhouseCoopers Tower on Quay St.
The trust's 151 Queen St, formerly called IAG House, on the Wyndham St/Queen St corner is 39 per cent empty but more floorspace could be vacant if rumoured big corporate relocations go ahead.
Vallabh said tenants paying $200-$300/sq m were being sought for 151 Queen St's empty floors.
The trust's net after-tax loss for the June 30, 2010 year of $152.1 million was released this week and contrasted to last year's $192.8 million loss but Simpson predicted next year it would make a $58.7 million profit followed by a $52.1 million profit in 2012.
Gill and Curley said the big question was around occupancy and whether their assumptions around 21 Queen St and buildings with large upcoming expiries - PWC and ANZ - were accurate.
They retained a hold recommendation on the trust, saying trading at 70c was on the border of warranting a more positive recommendation but the risk/reward tradeoff was still higher than most. The trust is trading at a 17 per cent discount to net tangible assets compared to a sector average discount of just 10 per cent, they said.
Simpson was more bullish, giving the trust an accumulate rating but also noting the downsides.
Vallabh, 37, an accountant of Lower Hutt, has been the trust's chief financial officer for six-and-a-half years. He refused to say if he had applied for the chief executive job but has previously worked in Britain, for an oil and gas explorer and at Property For Industry.
BIG AUCKLAND TOWERS
21 Queen St
2009 - $66.5m
2010 - $65.1m
Floorspace occupied - 11 per cent
PricewaterhouseCoopers Tower
2009 - $243m
2010 - $212m
Floorspace occupied - 94 per cent
ANZ Centre
2009 - $190m
2010 - $170m
Floorspace occupied - 96 per cent
151 Queen St
2009 - $82.5m
2010 - $66.8m
Floorspace occupied - 61 per cent