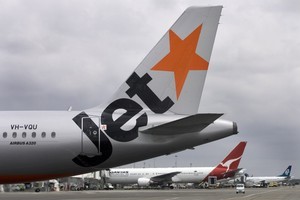 Almost $100 would be cut off a return airfare to Australia under a leading airline's plan to simplify transtasman travel.
The Australian-based chief executive of Jetstar, Bruce Buchanan, yesterday called for the New Zealand and Australian governments to drop immigration checks - and passenger charges - on one side of the Tasman.
But the airline, and three others which also support the move, believe they are on a collision course with officials over the push.
"The pollies are generally very receptive," Mr Buchanan said. "I think the bureaucrats have a bit of change-aversion."
An Access Economics report commissioned by Jetstar found dropping border controls could cut return airfares by $94 and increase passenger numbers by up to 13 per cent.
The move could boost New Zealand and Australia's GDP by up to $454 million, the report said.
Mr Buchanan said removing controls on one side of the Tasman would eliminate the duplication involved in performing customs, immigration and quarantine checks on both sides of the Tasman.
Customs Minister Maurice Williamson said last night the proposal was "a nice concept, but it would be extremely difficult and costly to implement in practice".
"This is because there would need to be a huge amount of alignment between the two countries and their systems to ensure all biosecurity and immigration risks can be identified and managed."
The proposal has been welcomed by three other airlines flying transtasman services.
Jetstar's parent company, Qantas, said last night it fully supported the ideas.
Spokeswoman Olivia Wirth said the issue had long been a topic of discussion within the airline group, which would continue working to make transtasman travel easier.
Pacific Blue, of the Virgin Blue Group Airlines, said that the idea was a good one.
"We support anything that makes the journey quicker and simpler and has the potential to take costs out of the journey without compromising safety," spokesman Colin Lippiatt said.
Air New Zealand did not wish to comment on the proposal, instead citing the comments it made last year after the Government said it would look at moves to streamline transtasman border processes.
Deputy chief executive Norm Thompson said then that the move would do great things for New Zealand tourism and attract more Australians to the country.
Authorities at Auckland International Airport - New Zealand's busiest - were yesterday seeking details of the Australian report, but supported any moves to further streamline travel across the Tasman.
"In principle we are all in favour of anything that could make the passenger experience easier or faster because that will stimulate repeat travel and we're all for anything that is likely to reduce fares," a spokesman said.
The domestic terminal may have to be modified if border controls were dropped in New Zealand.
"We're just not sure of what it will mean in terms of existing infrastructure," he said.
Consumer New Zealand chief executive Sue Chetwin said the idea was interesting and would attract a lot of interest among Kiwi travellers.
"In principle, that would be a great thing. We can already get some very good fares - particularly internationally - and there are a lot of good deals.
"It would attract a lot of interest from people, I think."
Aviation commentator Peter Clark said Mr Buchanan had been pushing for the removal of border controls between the two countries for some time.
"He's wanting to go back to the common border thing which we had many years ago."
Mr Clark said travel between New Zealand and Australia and also to other destinations was being streamlined with the introduction of smart passports.
He saw little chance of any big change in border processing in the current international environment.
"I don't think we're going to see gamebreakers, not with the security risks in the world today and the monitoring of people internationally. That's a fact of life now."
Independent aviation writer David Stone said many travellers would welcome having flights across the Tasman made more like a domestic flight.
But he said there were too many obstacles which could prevent that.
"Immigration and biosecurity and such checks are the two main issues that are obstacles to having a controlled border," he said.
"I think anybody would welcome simpler processes."
Mr Stone said airline fares in New Zealand were at the lowest they have been "since forever", and reducing fares even further would be welcomed.
TRANSTASMAN FARES
* Air New Zealand: $425.30
* Qantas: $426
* Jetstar: $414.84
* Pacific Blue: $449.77
All for a return flight from Auckland to Sydney on Wednesday, August 11, return Friday, August 13.
Other airlines flying the Tasman are Emirates, Royal Brunei, Lan Chile and Aerolineas Argentinas.