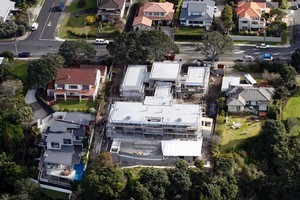 Expat marketing and IT millionaire Tim Williams is building one of New Zealand's biggest and most expensive houses.
Work is well under way on the 1065sq m futuristic building of hotel-like proportions perched on a clifftop close to Narrow Neck Beach.
The house looks directly across to Rangitoto Island.
For Mr Williams, the move is a return home. To get the clifftop site big enough to take the floorpad, he amalgamated two sections not far from Takapuna Grammar, his old school.
Some close to the project estimated the cost would total $15 million by the time the land purchases, cliff stabilisation, earthworks, excavation and two houses were taken into account.
A smaller building near the street is linked via a gallery to the larger family house, finished with an infinity pool perched on the clifftop.
North Shore City Council's consent application records show the finished project could be worth closer to $8.3 million.
Mr Williams, 39, made his fortune in Japan, where he started the country's first web-hosting company.
This week, he was holidaying in North America while builders worked at the Belmont property.
The council said a consent was issued for the new three-level dwelling, comprising six bedrooms, four-car garaging, three bathrooms, three studies, five storerooms, sunroom, gallery, dining room, living room, family room, Japanese-style room, spa pool and swimming pool.
"The house plus swimming pool will be 1065sq m," a spokeswoman said. "The project value is $2.8 million. There was also a consent for $350,000 worth of work to stabilise the site.
Mr Williams would not discuss the building. "Happy to talk about Japan and business, but this is a very private family thing and I have no interest in talking to anyone about this," he said.
The spread of the floorpad, bulk of the building and the number of tradespeople on the site daily have left the neighbourhood agog, although big-statement houses in the area are not unusual.
A stark white house nearby, once on the market for $8 million, became ASB's "Goldstein Manor" in an advertising campaign. The bunker-like grey mansion, sold by Erica and Robyn Congreve, was advertised at $10 million. Westpac boss Brad Cooper bought it but quickly returned to Australia. It sold in January for $7 million.
Some scenes from the Go Girls TV series were filmed at a two-level designer home nearby.
Mr Williams' house is designed by Sang Architects & Company, known for top-end work and houses with enormous doors.
Mr Williams' business associate Johnny Hendriksen said the Belmont house would be stunning, and was large enough for regular visits from family in Japan.
"It's very beautiful. I've seen the plans. His wife is Japanese and some of her family who have children will come and stay," he said. Whether Mr Williams would talk about the house was up to him, "but I'm sure once it's finished it will be a different story".
Mr Williams paid $5.1 million for the land, demolishing two houses and a formal garden - popular as a wedding venue - to make way for the futuristic family home.
Mr Williams, who once worked at an Auckland hospital, fell in love with Japan after visiting his brother there 17 years ago.
He stayed on to help pioneer internet marketing, and took two companies public.
He and Mr Hendriksen made their fortunes launching ValueClick in Japan, and developed the concept of internet marketing with ValueCommerce, which now distributes about 600 million internet advertisements a day.
In July 2006, the two men sold a major stake to Yahoo Japan and while one runs the Terrace Downs resort in Canterbury, the other divides his time between here and Tokyo.
TIMOTHY RONAN WILLIAMS
* Businessman who cracked Japanese IT market.
* On 2010 Richlist with $110m, in equal-38th place.
* Takapuna Grammar and University of Auckland student.
* Molecular biologist who switched to e-commerce.
* Moved to Japan in early 1990s to start businesses.
* Sold stake in ValueCommerce to Yahoo Japan.
* Investor in Canterbury's upmarket Terrace Downs resort.