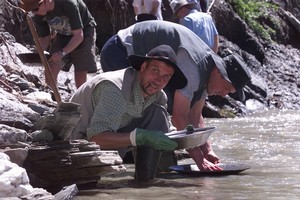 Digital gets special treatment, it's the new person in the room, it's
the person wearing the new fashion which isn't yet in magazines so
people aren't quite sure whether it's good (or bad).
I'm talking Digital Marketing here, just regular marketing in a digital space.
Because it's the new person in the room for some reason people forget
the basics and go off on tangents, wow we can do that, we can do this,
they get a little bit crazy.
It's just like a Gold Rush really, read this:
Sourced from the TEARA (New Zealand's Encyclopaedia) [Otago Gold Rushes]:
"... there were many rumours circulating about the doings of a digger
named Fox, who was said to have "struck it rich" somewhere in the
Otago interior.
Fox had, indeed, found gold on the Arrow on 9 October
1862. He managed to keep the location of his discovery quiet for a short time, but persistent rumours of a rich "strike" attracted many
diggers to the area.
In November a further discovery in the Shotover Valley (near Queenstown) confirmed the existence of the Wakatipu field and by December there were 3,000 diggers working the two rivers. A
month later there were 6,400 diggers in the district and several shanty towns had sprung into being."
What is forgotten in this rush is, what are we trying to achieve here?
How does this add into all our other activities? In that gold rush,
there's chaos, shanty towns set up, the masses turn up.
Shanty towns (are by definition) temporary, people are only there for the quick fix, the quick win.
This could be said for Facebook Marketing, Twitter or FourSquare, in
fact for any latest marketing innovation that's popped up over the
last few decades; teaser campaigns, direct mail, email, telemarketing.. the list goes on.
And that's not to say that they're not relevant here, now, today, what I'm getting at is with the arrival of any new hot marketing mechanism there is this massive gold rush.
And it's in that gold rush, the allure of riches that we forget the
basics. How does this fit into our Marketing Mix? What are we trying
to achieve and how does this tool assist in that.
Digital Marketing is an extension of your business, it should fit in with the rest of your marketing plan, yes it does wear slightly different clothes but hey're only different today, 18 months from now they'll be the norm.
Ben Young from bwagy ( is the author of The Best Ideas are Free and marketing director at Young & Shand.