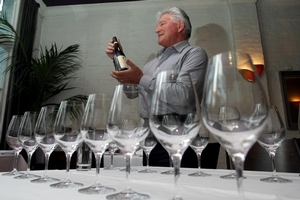 Winemaker Nick Nobilo has scored a big order from a new multi-storey restaurant development in China.
Nobilo left school in 1960, at 17, to join the family wine business - a business which became one of the best known brands in New Zealand. Nobilo Wines Group was floated in 1998 before being bought by Australian producer BRL Hardy in 2000 - the same year Nobilo set up Vinoptima Estate.
"I said, 'Right I've got this unfinished business to do and I'm going to create the best gewurzt in the world'," Nobilo said.
Vinoptima only makes gewurztraminer from 10ha of vines near Gisborne.
It is aged in the bottle for a minimum of three years. Nobilo, 67, said he loved the physiology of the gewurztraminer vine, the flavour of the grape and the aromatic characteristics of the wine.
Vinoptima's agent in China connected the winemaker with a 70 million yuan ($14 million) seafood restaurant development due to open in Hainan island in December.
"It'll be several storeys high," Nobilo said. "It's huge, it'll accommodate thousands of people."
The restaurant had ordered 15,000 bottles of wine from Vinoptima worth about $500,000, with delivery by the end of September.
The wine would be a flagship for the restaurant and sell on the menu for in excess of $200.
The Chinese market was relatively unsophisticated "so they don't know a lot about wines but they do know what they taste".
The taste of the gewurztraminer variety appealed to the Asian market.
"Gewurzt is an ideal variety to match those spicy dishes so it really, really goes down well."
Gewurztraminer had a spicy tang and the backbone of a good version was phenolics - soft tannins.
"Spices have phenolics in them and so each enhances the other, the wine enhances the food and the food enhances the wine."
The Chinese order was important for Vinoptima, which produces about 60,000 bottles a year, with a capacity for about 70,000 bottles, and also sells in Britain and United States.
"This China deal is where the future lies for growth and certainly for value," Nobilo says.
"I believe, and I've made this prediction, that in 15 years time a variety like gewurztraminer grown in New Zealand for the Asian market will be as huge as sauvignon blanc."
Nobilo has made repeated trips to China.
"I think it's important to understand that in China you have to build the trust first with the people you deal with and they have to have confidence in credibility in you, and you in them, and then once you've done that then you get down to the business."
VINOPTIMA ESTATE
* Vinoptima is latin for best wines.
* Company only makes gewurztraminer.
* 10ha near Gisborne.
* Chinese restaurant has ordered 15,000 bottles.