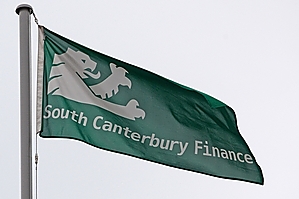 South Canterbury Finance, seeking $1.25 billion in new funds, says Government moves against majority owner Allan Hubbard have hurt it but it has still gathered about $300 million in renewed investments.
Chief executive Sandy Maier yesterday acknowledged damage caused to the business from the Government's move last month to appoint statutory managers to the embattled Timaru accountant, his wife Jean and many of his businesses.
"Allan's statutory management has hurt but there are so many other variables involved," he said when questioned about the effects of the statutory manager's report which criticised Hubbard, the financier's largest shareholder.
"There's been nothing catastrophic but it has gotten more difficult," Maier said, referring to general economic conditions and difficulties raising money and getting investors to renew.
But he said South Canterbury was succeeding, taking a step forward in achieving investment renewals and taking new money which gave it more breathing space following a mid-June hallmark.
"We're still hanging in there. June 18 cleared out a lot of the maturities. We finished that first big forward rollover of almost $300 million - people whose investments were due to expire between May and October," Maier said.
South Canterbury was on track, but Maier said he was watching the market with interest and could not precisely judge investment behaviour. "We are trying to figure out what the new 'normal' is," he said.
Despite uncertainties over the next step against Hubbard, Maier said the Government-appointed statutory manager Grant Thornton had found little against him.
"It seems like a non-event to me: Hubbard does business on a handshake. If they're looking at documentation, that's interesting. It doesn't sound like they're on the track of the next Bernie Madoff," Maier said, referring to the jailed Manhattan conman.
On June 20, statutory managers were appointed to the Hubbards and eight of their entities.
On Tuesday, Grant Thornton put a ninth business, Hubbard Management Funds, into statutory management after finding its accounting systems inadequate. But Maier encouraged people not to judge either the Government actions or Hubbard, saying not enough information was available to anyone yet to be able to tell precisely what was going on.
South Canterbury's parent, majority-owner Southbury Corporation, is controlled by Hubbard who has left the board and stepped down as chairman. The financier has sought to distance itself from the statutory management.
"The board and management of South Canterbury Finance are surprised at the action taken by the Minister of Commerce against Allan Hubbard but we want to assure our investors that our company is specifically excluded from the statutory management order," the business said, citing the Government guarantee on much of its funds. Yesterday, Maier praised Grant Thornton for its timing and said people would be anxious for the next report due mid-August.
"It's good the report came out fairly soon. At least it's a start," Maier said.
The statutory managers said lack of documentation was hampering their investigations. "Until we have a clear understanding of the status of Aorangi and Hubbard Management Funds, their assets and investments have been frozen in the interim and could remain so for some months," said the first report from Richard Simpson and Trevor Thornton.
Allan and Jean Hubbard have hired top lawyers Russell McVeagh to represent their interests.
CASH DRIVE
* South Canterbury is seeking to raise $1.25 billion, offering registered first-ranking debenture stock as well as $50 million in unsecured deposits.
* It has offered to pay 8 per cent annual return for most of the money.
* The finance company is covered by the Government's Crown Deposit Guarantee Scheme, even though its credit rating has deteriorated since it qualified for the backing.