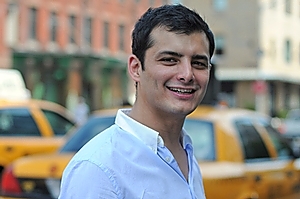 Derek Handley puts his success down to a little bit of luck and never giving up.
The 32-year-old entrepreneur and his brother Geoffrey yesterday sold Hyperfactory - the mobile phone marketing company they founded 10 years ago - to American media giant Meredith Corporation.
Although the details remain confidential the sale is thought to be worth tens of millions of dollars.
The Handley brothers own a similar stake in the business to that of Geoff Ross' investment firm the Business Bakery, which has about 18 per cent.
Last year Hyperfactory sold just under 20 per cent of the business to Meredith with an option for Meredith to buy up the rest in two years.
Speaking from New York yesterday, Derek Handley said the sale of the remaining 80 per cent of the business left him with mixed emotions.
"It's the end of an era - going from being in charge of one company to being part of a company like Meredith which has been around for 108 years."
The Handleys began the business when Derek was 22 and Geoffrey 25.
Five years ago they expanded overseas and have since opened two offices in the United States as well as sites in Shanghai, Hong Kong and India.
Derek Handley said he never expected Meredith to buy the entire business just a year after its first investment.
"When we went into the deal I thought at the end of two years they will either like the business and want to exercise the option or the business will have grown and we could list it in New Zealand."
He expected to stay with the business for at least a few more years and planned to focus on growth.
"We want to triple the size of the business in the next three years. That's going to be a big challenge. But the Meredith deal is going to enable us to do that."
He said the sale showed it was possible for Kiwi entrepreneurs to make it big. "It really does show you can do it. I started a business at 22 and believed I could take on the world."
Handley puts his success down to a mix of factors. "It's a tiny bit of luck - but you get that from being in the right place - it's about keeping on. We could have quit so many times. That's the difference for those who make it."
He said he hoped to share his passion for entrepreneurship with other budding Kiwi entrepreneurs.
"That's what I want to do - lay the foundation to inspire young people straight out of university."
Meredith chief development officer John Zieser said the company was attracted to the Hyperfactory because of its global experience and impressive client base, including BlackBerry.
"They emerged as the most attractive partner. As we got to know them we discovered we had complementary cultures."
But Zieser admitted Meredith was not ready to jump in boots and all to start with.
"The reason why we structured the relationship the way we did was that mobile is still an emerging market. We wanted to structure the relationship where we were a key shareholder which allowed us to open up our client base so they could mine it. We wanted to test it first."
Acquiring the business just one year after its initial investment gave Meredith a financial advantage. "We were able to consolidate our operating profits."
In a statement to the New York stock exchange Meredith said the acquisition was expected to be earnings accretive but would not have a material effect on its financial performance for fiscal 2011.
Meredith's share price rose US70c to close on US$32.02 yesterday.