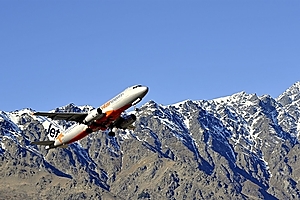 A week after Auckland International Airport purchased a quarter stake in Queenstown Airport, it is welcoming new flights to Queenstown from Melbourne and the Gold Coast by Jetstar, the budget airline owned by Qantas.
Jetstar said a twice weekly Melbourne to Queenstown A320 service would start on December 16 and a twice weekly Gold Coast to Queenstown service on December 17.
Queenstown continues to grow in popularity, with 30 percent more Aussie ski tourists visiting last year compared to 2008, according to NZSki.
"Looking forward, we believe that our new flights will support more growth for the 2011 ski season at a growing Queenstown Airport,"Jetstar chief executive Bruce Buchanan said.
Auckland Airport chief executive Simon Moutter said the new Jetstar services would drive substantial additional economic benefit to what is already the fastest growing tourism region in the country.
Auckland Airport said on July 8 that it was buying 24.99 percent of the Queenstown Airport, which remains majority owned by Queenstown Lakes District Council.
Moutter said the additional Jetstar services into Queenstown followed hard on the heels of its strategic alliance with the airport.
This alliance committed both airport companies to work together to drive more tourist traffic into New Zealand and through the two airports.
Jetstar currently operates more than 120 weekly trans-Tasman and domestic New Zealand flights serving Auckland, Christchurch, Wellington and Queenstown.
Six trans-Tasman routes are presently flown, growing to eight with future Queenstown services.
Jetstar is also increasing services between Queenstown and Auckland from daily to 11 times a week from December 16.
It will have seven A320 aircraft based in New Zealand by December.
- NZPA