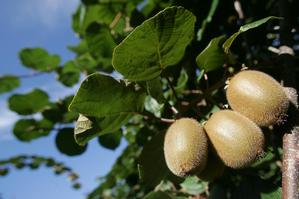 A New Zealand fruit distributor is behind efforts to grow kiwifruit "in secret" in southern England - in the Kent region widely known as the "Garden of England".
Vines imported from Italy and Greece were planted on a hectare last May and are growing well, with the first fruit expected to be commercially evaluated in two years, the FreshInfo produce news website reported.
It said the orchard was an initiative of Worldwide Fruit (WFL), a leading fruit marketer owned by Turners and Growers - a New Zealand subsidiary of the GPG investment company - and local grower group Fruition Producer Organisation.
The core business of WFL includes the sale of apples, pears, avocado, dates and British stonefruit to a range of supermarkets and other retailers.
"It is hoped the crop will eventually provide additional new diversification opportunities," the website reported.
A locally grown kiwifruit could be marketed as having lower food miles and a smaller carbon footprint than imports. The trial planting was planned in 2008, using the expertise of New Zealand kiwifruit growers.
WFL technical director Tony Harding said "working jointly on the project with one of our shareholders, Turners and Growers has enabled us to source exclusive varieties".
"The UK project is a small part to the overall T&G kiwifruit global development plan in which we are delighted to be involved."
WFL would have sole marketing rights to sell the fruit from the 1200 green Hayward-type vines so far planted, but Mr Harding said that there were plans to plant gold-fleshed and red-fleshed kiwifruit next year.
Turners and Growers has been working for several years on a bid to deregulate New Zealand kiwifruit exports, and to break the grower-controlled Zespri Group's statutory grip on export outside Australasia.
It recently rolled out global plans for "enzared", a red kiwifruit with a red starburst centre, and chief executive Jeff Wesley announced that the company was establishing crops in Italy, France and China.
In Italy, Turners and Growers is raising several thousand enzared plants to have around 100ha growing in both Italy and France by 2012. It also has a yellow-fleshed cultivar, enzagold, in commercial production.
Fruit development technologist Caroline Ashdown told FreshInfo she was impressed with the way the new green kiwifruit vines were performing in England's climate.
"It is a new experience for us," she said. "We are confident it will be successful in some degree as we get to understand the vines' physiology.
"They need good pollination, but do not suffer from mildew or canker like other deciduous fruit.
"It's early days yet, but we are excited by the prospects of producing a commercial viable UK-grown kiwifruit."
- NZPA