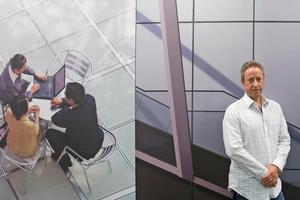 The Government is set to come good on an election promise to build a billion-dollar high-speed broadband network but few New Zealanders have any understanding of what it is to live in a high-speed broadband world, says an industry insider.
Chief executive of the New Zealand arm of global technology company Cisco and chairman of industry group NZICT, Geoff Lawrie said New Zealand would miss a major opportunity to create economic and lifestyle gains unless it began debating how it would create benefits off the back of the Government's broadband investment.
The focus of the discussion around the Government-backed fibre roll-out has been on how it will be built and who will be taking the lead in the private sector partnership.
The Government aims to boost productivity with a fibre-based broadband scheme delivering 100 megabits per second to the doorsteps of 75 per cent of businesses, homes, hospitals and schools within the next 10 years.
"When I look at the path that we're about to embark on as a nation there is distressingly little understanding and debate about the end-point and how it's going to change our lives," said Lawrie.
"If you take the time to understand what the end-point might look like, that represents an unbelievable opportunity to address almost all the issues that bedevil New Zealand."
He said top of the Government's agenda is boosting productivity, international competitiveness and dealing with the issues of urbanisation and an ageing population - the solutions to which will be delivered over a high-speed broadband network.
Yet he said it was hard to get any engagement with the Government on what those services will look like.
At a local level, Lawrie said the Super City rhetoric gave every indication the urbanisation challenges Auckland faced would be solved using 20th century industrial approaches of building roads and other physical infrastructure.
Around the world, cities were increasingly using high-speed broadband networks to change the way healthcare, government services, education and transportation were delivered, Lawrie said.
"We tend to think we're a bit unique but we're not. There's a lot of things that we can learn and we should be aggressively out there, particularly given that the broadband is going to happen one way or another, we should be looking to wring every piece of competitive productivity value out of that investment that we can. At this point I don't see it happening at either an individual or orchestrated way."
He reels off examples from elderly patients using their TV sets to consult their GP to satellite work centres 10 minutes' bike ride from home that offer uninterrupted access to the company network and phone system.
He said there needed to be examples to show business people in Hamilton, Taupo, Invercargill and Greymouth how they could use high-definition video to connect with suppliers in China or customers in London and still have dinner at home with the family.
"The point is this isn't world-leading. There are cities and countries that are embracing this whole heartedly which is both an opportunity and a challenge for us. We have to be in that game if we're serious about productivity and competitiveness issues."
His day job as head of a technology company sees Lawrie spruiking network and video conferencing technology but he said he is not out to sell anything other than the belief that this is a social and technological change that will happen, with only the question of how New Zealand embraces it for advantage remaining.
"The mediocre debate around 'oh it's just faster internet, I can get my porn quicker', it's so small-minded and immaterial in the context of what it is possible out of this," Lawrie said.
"What fibre does is enable people to do different things."