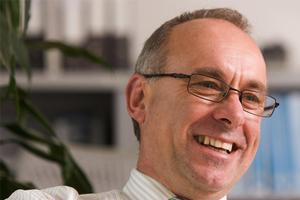 New Zealand's biggest company, Fonterra, says it needs permanent share capital to confidently invest in long-term global growth.
Fonterra's dairy farmers this morning began meeting at Palmerston North on a vote crucial to the dairy cooperative's future capital structure, with the company's chief executive Andrew Ferrier telling them that access to permanent capital would help improve future shareholder returns.
The chairman, Sir Henry van der Heyden, told the meeting - relayed to other sites in dairying regions - that "we won't go ahead with Trading Among Farmers unless it will work for us as farmers".
The company's 10500 farmer shareholders have been voting by post and internet for the past two weeks on whether to change their constitution to allow them to trade shares among themselves. Today's meeting will tally the votes, including those cast in person and by proxy.
At present farmers have to buy shares from the company to match their milk supply and sell them back when they leave the co-operative or reduce milk production.
But Fonterra wants to cut the "redemption risk" or financial uncertainty that system causes as millions of dollars flow in and out of its books as milk production fluctuates.
If a lot of farmers cut production - such as during a drought - or quit the company, it can face sudden and massive outflows of cash, often at a time when cashflow is delicately balanced.
Ferrier said the company could not put all of farmers' existing share capital to work, because it needed to hold a reserve in case it was needed to pay out redemptions to farmers surrendering shares.
"This is no small issue," he said. "Redemptions can total hundreds of millions of dollars in a single season".
Having farmers sell back their shares to other farmers, at market prices, would mean:
* More of the cooperative's capital could be invested for future returns;
* The company could make better use of retentions from farmer dividends;
* Share prices could be improved with less risk causing of shareholder farmers to cash in by selling up;
* The company's ability to borrow against capital would be enhanced.
Van der Heyden said that during the 2007-2008 drought Fonterra's equity levels fell by about $600 million as farmers slashed production - and their shareholding - or quit the cooperative.
In future, production might be hit by well-capitalised competitors from overseas competing with the cooperative for New Zealand for milk.
"The cold hard reality is that there's every chance our co-op will have periods of lower growth in our milk supply at some stage in the future," he said.
Farmer share-trading
What is it?
* Dairy farmer co-operative Fonterra was formed in 2001.
* At present, dairy farmers have to buy shares in Fonterra based on the level of their production.
* Under the proposal farmers would buy and sell shares among themselves through a Fonterra Shareholders' Market, rather than with Fonterra.
* A Fonterra Shareholders Fund would also be set up to enable farmers to sell the share benefits of distributions and changes in value but retain voting and milk payment rights.
* Farmers could be allowed to buy dry shares that do not have voting rights for up to 200 per cent of their production level.
Why do it?
* Remove the redemption risk of Fonterra having to pay farmers when they cash in shares.
* Provide the company with permanent share capital.
What's next?
* Proposal for share trading needs 75 per cent support. Farmers had the option of voting by post, on the internet or at today's special meetings around the country.
* It is expected to take at least 15 months to implement.