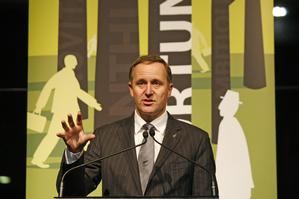 Supporting entrepreneurs is critical to New Zealand's future success, Prime Minister John Key said last night at the launch of the University of Auckland Business School Entrepreneurs' Challenge.
New Zealand needed to back entrepreneurship, research and innovation and to build an economy based on a broad range of exports.
Otherwise, we could end up in the same financial position as struggling eurozone nations Portugal, Spain and Greece, Key said.
"We need entrepreneurs and to have a savings culture that will invest in them."
Backed by funding from expatriate businessman Charles Bidwill, the Entrepreneurs' Challenge aims to turbo-charge the growth of New Zealand businesses with an eye on local or overseas expansion.
Up for grabs is up to $1 million in investment funding and mentoring from business leaders.
A former sharebroker, Bidwill was a regular in the business pages through the 1980s and 1990s due to his association with Ceramco, Bendon, Baycorp and Steel & Tube.
Speaking to the Business Herald earlier this year, Bidwill said the Entrepreneurs' Challenge wanted to support people who were big thinkers.
"Don't treat $100 million as something that is hard to achieve. Treat $100 million on the basis of: 'We're good enough, we're good enough to do $100 million. We've got the product, we've got the drive. If we're successful, money is not going to be a problem'," Bidwill said.
"It's those sorts of companies getting into these levels that are really in the end going to contribute more to the New Zealand economy than this company doing $10 million, another company doing $15 million.
"I'm not saying it's no good, what I'm saying is we've got to start thinking bigger. We've got to start thinking the numbers. If you can do $25 million, why can't you do $100 million?"
Last year's winners, coffee company Allpress, smart water meter developer Outpost Central and hotwater heating control technology company Senztek, have used their share of the $1 million to fast-track ventures into overseas markets.
Allpress and Senztek have used the financing to fast-track growth in Britain.
Allpress is set to open a new roastery and espresso bar in London this year, with Senztek due to send its chief executive to Britain to boost its presence in the market.
Outpost Central has continued its marketing push into Australia, where it has found a ready market for its water metering technology.
Entries open today at midday and companies have three weeks to enter.
Companies seeking a share of the $1 million have to run through a three-step screening process. Initial applications will be weeded down to about 20 businesses.
These will then be whittled down to a final half-dozen from which the winner, or winners, will be selected after a final round of face-to-face meetings with the high-powered investment committee.
The allocation of the money will be determined by the needs of individual companies.
Winners will be announced at an awards ceremony in November.
THE RULES
* Entries are invited from companies seeking funding for growth or expansion.
* The ideal candidate will have a minimum revenue of $1 million.
* Exporters or those with potential to export will be preferred.
* Applicants should have been in business for two years and show financial accounts for that period.
* Companies should not be property- or banking-related.
* Funding will be negotiated on case-by-case basis, with up to $1 million available on favourable terms.
* Investment will most likely be in the form of a convertible note with repayment in full after three years.
* Entries close 5pm July 19, 2010.
* Winners will be announced in November.
* Enter online at: www.entrepreneurschallenge.co.nz