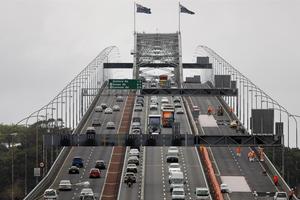 Using traffic as a measure of success is a blunt instrument - what kind of traffic is it?
What are they doing? How do you measure success of
that traffic?
The truth is, if you want raw traffic, you can buy it and buy it very
cheaply. You can acquire tens of thousands, hundreds of thousands,
even millions of visits if you want them. However they're low
quality, high bounce (and exit) rates and a very tiny tiny percentage
will actually do anything.
An analogy I would compare it to, is, traffic over the harbour bridge.
Imagine counting the number of vehicles that went over and assuming
that the higher that number the better it is for the CBD. However how
many are actually pulling into the CBD, stopping, making a purchase
then carrying on versus those that don't even pull off the motorway?
When you understand it from that perspective you realise that traffic
maybe isn't is a blunt instrument (however it does inflate the ego).
The step I like to take it back to, is what are your business
objectives?
How do you achieve those? And how does digital help
achieve them? (often the last question is what companies need help
with answering).
It's far too easy to leap in online, building a
website, slapping up some banner ads and get no results. In fact a
mediocre effort could be driving business away. Just analyse your own
behaviour online, how often do you leave a website as it doesn't
answer your question, provide contact information or help you?
Once you've established this, you can then measure the actions online
that lead to the success of your business objectives, whether it's
asking for a call back, downloading a pdf, leaving their customer
details or just reading your message. This is what you should be
measuring, of your traffic what actually leads to business value?
There is always the unmeasurable (like word of mouth) however
extending your performance indicator from traffic to what leads to
business immediately raises you above the competition.
It forces focus on variables that drive real business value and in due course allows you to invest more than your competition (as your level of
success is higher).
Ben Young from bwagy is the author of The Best Ideas are Free and marketing director at Young & Shand.