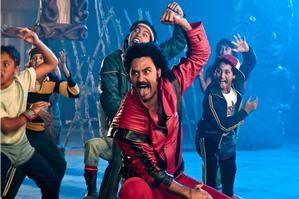 Downloading illegal digital content is costing the New Zealand film industry $70 million annually and is impacting on everyone from set builders to film distributors and DVD retailers, an anti-copyright organisation says.
New Zealand Federation Against Copyright Theft executive director Tony Eaton said hundreds of New Zealanders were looking for film funding and the money the industry loses could be put to better use.
Pirated copies of New Zealand's acclaimed film Boy are circulating the internet and could affect the film's international release and DVD sales, the New Zealand Film Commission says.
Commission chief executive Graeme Mason said piracy did not only hurt those directly in the film industry but those in other sectors as well.
"Strong returns on movies such as Boy enable the commission to invest more money into developing more New Zealand stories that resonate not just with Kiwis, but with audiences around the world.
"That's a good thing for the industry and for New Zealand as a whole," Mason said.
Eaton said the piracy of Boy highlighted how important it was for the industry to crack down on copyright infringement to better protect intellectual property from being pirated or stolen and then distributed across the internet.
Last week, submissions to the Government's proposed amendments to the Copyright Act closed.
More than 100 submissions were lodged, but the industry is divided over what the best policy is to police infringements of copyrights.
Eaton said the Government was proposing a three-notice approach and after that the copyright owner could either take the case to the proposed Copyright Tribunal or file proceedings at the District Court.
The ultimate punishment could be a fine through the tribunal not exceeding $15,000 or the termination of a user's account.
Eaton said even downloading US films such as Avatar was hurting New Zealand because companies such as Weta Digital spent years working on that film.
"There are 22,000 full-time employees in film and TV in New Zealand.
"Copyright infringements affect cinema operators, DVD stores and mum and dad business owners," Eaton said.
But internet New Zealand said despite this digital music and films sales had increased slightly in the past year.
InternetNZ spokesman Richard Wood said the organisation was against the termination of a user's internet account because it wouldn't stop serious offenders as they would change providers.
Wood said the final proposals were a major improvement from what was initially proposed but he questioned the need for any amendments.
He said international research had shown that 70 per cent of users would stop downloading if they received a warning from their provider.
Auckland lawyer Rick Shera said the internet was now considered a utility and users were using the service for everything from banking to tax returns to online shopping.
"Termination is not a good remedy. Users will switch ISPs, encrypt their traffic, so they won't be picked up in the first place.
"The internet is like a utility like roads and water. We have come to completely rely on it," Shera said.
HIGH PRICE
* Copyright infringements are estimated to cost the NZ film industry $70 million a year.
* Submissions to the Government's proposed changes to the Copyright Act closed last week.
* Industry is divided over proposed three-strike approach, which could see a user fined $15,000 or have their internet account terminated.