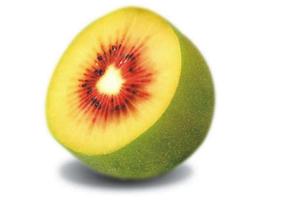 A shiny new kiwifruit, sporting a brilliant, sunburst red centre is being released onto the market this week.
The fruit has a striking red centre, exotic flavour and a creamy texture.
It is the first major change to the fruit since the gold kiwi more than a decade ago.
Turners & Growers created the kiwifruit brand in 1959, when it was establishing the export market for New Zealand-grown Chinese gooseberries in the United States.
Tomorrow marks 51 years exactly since the name "kiwifruit" was coined, and this week's rollout of the ENZARed kiwifruit on the global stage is designed to mark the occasion.
Turners & Growers chief executive Jeff Wesley says the company "wanted to develop different tastes to reach a wider market and different colours for more visual appeal".
Turners & Growers estimates the potential market for the red kiwi as similar to that of its gold cousin, which earns more than $250 million annually.
China is now in its third season of commercial production of ENZARed. Strong domestic demand there has reduced export numbers for the fruit.
Turners & Growers owns the rights to the new red fruit, allowing the company to set up growing hubs in both the Northern and Southern hemispheres, ensuring year-round production, to meet the demands of the world's supermarkets.
The company has several new varieties developed and tested for production and export from New Zealand.
The company also owns the global intellectual property rights to ENZAGold and the regional rights to Summerkiwi.
The first Summerkiwi fruit was picked in Kerikeri this season and will be in commercial production in New Zealand next year.
Turners & Growers has began a billboard campaign to highlight the need for a review of the decade-old Kiwifruit Export Regulations which prevent them and other owners of new kiwifruit varieties from selling their fruit overseas.
Turners & Growers wants the right to be able to export, without restriction, its own kiwifruit varieties internationally.
The Kiwifruit Regulations 1999 prevent owners of kiwifruit varieties, other than monopoly kiwifruit marketer Zespri, from exporting kiwifruit outside New Zealand and Australia.