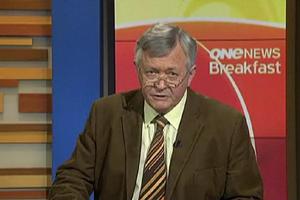 Television New Zealand is knocking up another two-hour special to mark 50 years of TV.
Critics pilloried TVNZ for Cheers for 50 Years - its appalling but low-rent two-hour quiz on June 1.
But TVNZ is laughing - it scored huge ratings and advertising revenue.
Now the state broadcaster is scrambling to make a last-minute show marking 50 years of television news and current affairs.
At the start of this year the news department came up with the idea of a two-hour special.
Sources say that at the time TVNZ top management rejected the special as too expensive in tough times.
But after reaction to the tacky quiz, knock-it-up news nostalgia, featuring the likes of Dougal Stevenson, is de rigueur.
Staff have been sent away to work on a two-hour show for Sunday, June 27.
It's the latest example of slack-jawed handling of the 50th anniversary.
The celebration has come to symbolise TVNZ's dying gasps as a national broadcaster.
So what about the new show. Is the hastily produced news special answering critics that TVNZ has underplayed the anniversary?
Or given the high ratings for the last nostalgia show, is it just a quick and easy earner?
INSULT AND INJURY
Adding insult to injury, the new show will be screened at 8.30pm on June 27, so it will be a spoiler for the thoughtfully conceived Prime TV documentary series - one year in the planning - about the history of television.
The Prime show is funded by the taxpayer through New Zealand on Air, after both TVNZ and TV3 indicated they were not prepared to publicise shows on other channels.
Prime programmer Karen Bieleski laughed at the timing for the TVNZ news show, saying it was ridiculous.
But she said there were no plans to move the documentary series.
LAST INDIE
Media are lamenting Fairfax Media's closure of the Independent - a paper with a proud history that was the minnow of business media but a source of news.
For many the big question is how the paper lasted so long through tough times in the media and at Fairfax.
The end of the business paper underlines the irony of the paper that was run by Warren Berryman and Jenni McManus before Fairfax's purchase in 2006.
Millionaire Tony Timpson had been bankrolling the paper for 14 years.
The old Indie dug deep and made its name for uncovering business scandals.
Among its numerous successes, it won applause for its coverage of the Winebox Affair.
But the business paper that preached good business has never been commercially viable.
"That's the irony," said Timpson, a close friend of Berryman and McManus. He said his silent investment in the paper was "a hobby".
Timpson said that during the time he was benefactor he came close to breaking even but never made a profit.
Fairfax announced on Wednesday it was closing the Independent from July 1.
There will be no layoffs and journalists will work for an expanded business news hub, serving Fairfax papers and online brands.
Even bitter rivals of Berryman and McManus said it was a sad day for print media.
Berryman - whose hard-drinking, tough-talking style was held in awe by parts of the media - died in 2004.
Two years later the Independent was sold to Fairfax and now, after four years, Fairfax has thrown in the towel.
Timpson has been out of the Independent for four years, but was still sad.
"It's like losing a child - you would be less than human if you didn't feel some sense of deprivation and loss," he said.
BUSINESS TIME
We don't know the price Fairfax paid for the Indie back in the acquisitions boom.
But why did Fairfax buy a paper that had never made a profit in 18 years?
Back then - under chief executive David Kirk - John Fairfax Holdings was expanding left right and centre, including buying Trade Me.
One source said the purchase was partly aimed at securing McManus and her considerable reputation on to Fairfax's staff.
Kirk had approached Barry Colman to buy the National Business Review but Colman had made it clear it was not for sale.
"Fairfax's purchase of the Indie was because I was not selling," Colman said.
Fairfax "had done all it could" with the Indie but in his mind it was never commercially viable and closure was inevitable.
If it were not for the considerable energy of its founders it would have closed in 1994, he said.
Fairfax had tried unsuccessfully to print and sell its Australian Financial Review in New Zealand and wanted the kudos of being a player in the business sector.
One critic of the closure said that the Indie had ended up being closed because Fairfax had never understood that the brand had to be grown and developed.
According to this view it did not know what to do with the paper.
A veteran of the New Zealand advertising industry, Martin Gillman, said Fairfax's problems related to its inability to leverage the Indie off the AFR.
He also said that while it was a good product advertisers had backed away after Fairfax took over and downgraded the paper circulation claims in 2006 - by an astonishing 62 per cent.
"It never really recovered from that."
The change was over the treatment of promotional copies because advertisers treat people who paid for content as being more valuable.
Circulation fell to 3255 for the six months to September 30 from 8640 for the previous six months to March 31.
Gillman said that to its credit, Fairfax had swiftly changed the way the Independent dealt with distribution to the Exporters Institute and the Chartered Secretaries of New Zealand under promotional deals.
The Indie was a good product with a proud history. Undoubtedly, though, previous treatments had undermined the brand and had influenced advertising agencies' decisions.
He said the issue over circulation claims was still live and should be addressed by print media.
CHANGE CHANNELS
Another key executive has stepped down at MediaWorks now that Jason Paris has taken over as general manager of television.
MediaWorks' director of technology John Allen has announced he'll be stepping down from his full-time role at the end of August "for lifestyle reasons".
He follows MediaWorks TV head of sales Colin Caldwell, who resigned last week.
Allen has been with the company for 10 years and has worked in the broadcast industry for 25 years.
His departure will lead to speculation about MediaWorks sharing back-room services with TVNZ.
But MediaWorks managing director Sussan Turner said that Allen's role was across radio and TV and he was being replaced.
Changes at MediaWorks follow a capital restructuring that reduced the crippling debt burden over the company, but further changes are expected.
At the end of last year chief executive Brent Impey stepped down from the company.
LOCATION, LOCATION
Fairfax Media is believed to be planning to relocate two of its primary Auckland locations.
It is understood that the lease is up soon at Fairfax's slick head office facilities at Auckland's Viaduct Harbour.
Fairfax owns a building in New North Rd that houses the Sunday Star-Times, Sunday News and TV Guide, and that is also expected to be relocated late this year or early next year.
It is understood one option under consideration is to move into the Telecom building near Karangahape Rd, when Telecom moves to its new offices in Victoria St.
Meanwhile, an announcement is expected soon that Fairfax Sundays sports editor Michael Donaldson has been appointed to replace Miriyana Alexander as deputy editor of the Sunday titles.