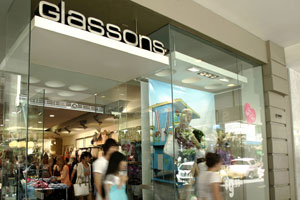 How often do you walk into a shop and notice what the shop assistant is wearing and think - that looks good, I wonder where in the shop that is?
It is for that reason that stores often offer significant discounts to their staff, to encourage them to wear their product, and in turn, to encourage customers to purchase it.
I'm also aware of other stores which have racks of staff clothing and staff are required to wear the clothing when they come to work, and leave it behind when they finish (I assume the other bonus is that the store takes care of any laundry).
I remember my sister worked for a large international sportswear apparel manufacturer for a while and quickly adjusted to wearing that label head to toe. She was given the opportunity to choose a number of items for free each season, which she was then required to wear when she worked, and was able to purchase other items for her own personal use at wholesale cost.
Again, the intention was that she would wear the items when she was working. The upside for the company is of course when employees like the clothes so much that they wear them outside of work as well - free marketing! (or at least reduced cost/wholesale marketing).
Some industries provide uniform items to employees at work.
This usually means that the company is responsible for any laundry and necessary repairs, and has the benefit of controlling the standard of clothing that is worn and avoiding any issues with employees leaving uniform items behind.
It also avoids potential situations where staff wish to wear uniform items outside of work, for example at fancy dress parties. The additional employer costs in terms of laundry may be balanced out by these other benefits.
However, a former Manager of Glassons has recently been quoted in the media stating that staff of the fashion chain, often school or university aged girls, feel like they have to wear the company's clothing.
Leaving aside issues of pressure to wear the clothing, the Wages Protection Act 1983 specifies that: there are to be no deductions from an employee's wages, except in specified circumstances; wages are to be paid in money; and perhaps most importantly in this context, the employer must not stipulate as to the mode of spending wages.
That means, it is unlawful for an employer to direct that an employee spends their wages on items from the current company catalogue. In short, if an employer requires an employee to wear particular clothing or uniform items, those items must be provided to the employee.
Another question that often comes up is: what directions can employers give about the standard of dress required? Employers are entitled to require employees to dress in a manner that is consistent with the environment in which they work.
For example, employees in a professional service related profession are likely to be required to dress professionally. This may or may not mean wearing a suit and that specific requirement (or not) will depend on the particular employer. The key issue is about clear expectations. So often the advice we give to clients is make sure your expectations are clear. If both parties have the same understanding of what is expected, it is likely many issues can be avoided.
Trinny and Susannah have created an empire telling people what not to wear. As an employer you can tell employees what to wear and what not to wear - but there are limits. Cross the line, and you could be told - where to go!
Bridget Smith