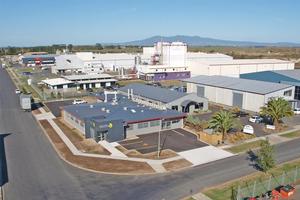 In Hamilton's evolving Frankton industrial precinct, a new state-of-the-art industrial building will be auctioned on June 17 as part of the latest Total Property portfolio offerings.
Built to the specific and exacting needs of the analytical laboratory tenant, Hill Laboratories, the prominent corner building on 1500sq m of industrial-zoned land at 1 Clow Place is being marketed by Mike Swanson and Kevin Wehipeihana of Bayleys Waikato as a quality industrial offering with 14 on-site car parks.
Hill Laboratories is a specialist environmental testing business. Its services include agricultural testing, food and bio-analysis, microbiology and air quality testing.
Swanson says the company had specific tenant requirements related to the handling of samples and goods for testing, mechanical air control systems and internal security systems which have been incorporated within the 519sq m building to the highest specifications.
"All entry/exit points are via swipe-card-controlled electronic doors and there is a dedicated courier entry dock with self-opening doors to the courier bay. Excellent lighting, mechanical ventilation and full air-conditioning feature throughout the building, which has been designed to allow for growth," he says. "This building and the technology in place has been designed to take Hill Laboratories into the future. The company recently merged with a new player in the environmental testing market, Analytica Laboratories, which was to have occupied these premises. With their combined skills and resources plus the high-spec building, they are well-placed to hold their own in this in-demand sector."
A new lease was entered into last month for a four-year term with two further rights of renewal, each of four years, and a final expiry of March 31 2022. Rent reviews are two-yearly and annual rental is $115,000 a year plus outgoings.
"There are many fixtures and items within the premises such as data and computer cabling, air handling and ducting systems and air-conditioning units that are owned by the landlord and leased to the tenant under the terms of the existing lease," Swanson says.
"This location is proving beneficial to Hill Laboratories because of the ease of access to SH1 and the prevalence of courier firms in the immediate area which streamlines the movement of samples."
Bare land in the vicinity is at a premium and so a vacant site at 6 Clow Place, which is also being auctioned by Bayleys on June 17, is drawing early interest as industrial investors recognise its future potential. The 4007sq m site backs on to SH1 and is billed as "affordable industrial land ready for development".
Successful neighbouring businesses near the cul-de-sac location include Dairy Blenders Ltd, NZ Couriers, Post Haste Couriers, Gallagher Group and Hi Tech Plastics.