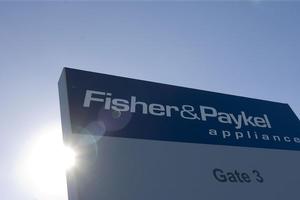 Fisher & Paykel Appliances reported a full year loss of $83.3 million, but said the appliances business had recovered in the second half despite a continuation of difficult trading conditions in the United States.
The result for the year to March, which compared with a $95.3m loss a year earlier, came on a 15.1 per cent fall in revenue to $1.16 billion.
In the results published today, the company focused on its normalised group profit after tax of $18m, down from $33.8m the year before.
F&P Appliances said improvements in the second half were driven by financial benefits from its global manufacturing strategy and market share gains in Australia.
Normalised operating profit before interest and tax for the Appliances business for the second half of the year was $23.7m, compared to $5.7m for the first half.
The company's finance business reported a 37 per cent rise in full year operating earnings before interest and tax of $28.9m.
That improved result was built on higher net margins, overhead containment, and a continued focus on asset quality and credit management, the company said today.
With the global manufacturing strategy now complete, one-off costs associated with the factory relocations amounted to $400,000 in the second half compared to $15m before tax for the first half.
Total impairments and fair valuation adjustments for the full financial year amounted to $102.3m before tax.
Other one-off items included redundancy costs of $8.3m before tax, debt restructuring costs of $11.1m before tax, and profit on the sale of land and buildings of $3.9m before tax.
Managing director and chief executive Stuart Broadhurst said the year had been a difficult one for the company.
Challenges and distractions associated with shifting manufacturing locations were behind the company. Going forward it was committed to building on recent gains, executing growth opportunities and developing products for the future.
Demand conditions were expected to remain fragile, with competitor activity expected to remain intense during the 2011 financial year, Mr Broadhurst said.
F&P Appliances was well positioned to benefit from revenue growth opportunities including expanding US distribution into Sears and Lowe's, distributing Haier products in New Zealand and Australia and the launch of the F&P brand in China.
Benefits of a lower manufacturing cost base were likely to be partially offset by competitor activity, rising commodity prices, increasing sea freight charges and lease costs. Labour costs would also rise following the removal of a 5 per cent salary reduction for salaried employees.
The Finance business was expected to remain resilient despite soft retail conditions in New Zealand, although any increase in interest rates would put pressure on earnings.
- NZPA