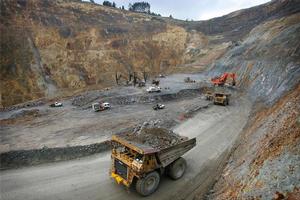 The tourism industry is divided on the merits of mining, says Tourism Industry Association chief executive Tim Cossar.
The association's members are split roughly equally for and against mining, although they are generally against additional mining in national parks.
"If you're just relying on tourism, or just relying on dairying, or just relying on sheep or beef you're playing a game of Russian roulette really as an economy," Cossar said.
"I think most people would say you need a portfolio of industries that have got the potential to grow.
"Canada has much more extractive industry than us and they're still a higher-ranked tourism brand."
In a submission on Government mining proposals, the association said national parks were anchors of the international perception of New Zealand's clean and green image and additional mining of parks could harm the country's reputation.
Mining proposals for public land had to clearly meet high levels of environmental and community scrutiny, Cossar said.
Sustainability, issues around the environment and the impact of tourism would come to the fore again.
"This one is going to be nation-defining for us," he said.
"I don't think we're going to be able to avoid this discussion as a country.
"This is going to be one of the things that really determines the success and future brand of our country."
Associate Tourism Minister Jonathan Coleman said the Government's proposal was a document for discussion of removing some Department of Conservation land from the protection of Schedule Four.
"We are extremely conscious that our branding internationally is vital to the tourism industry and we don't want to do anything that's going to damage that brand," Coleman said.
International tourism expenditure made a $9.3 billion economic contribution in the year ended March 2009.
"The fact that tourists are going to increasingly judge our exports on our environmental performance drives the Government's introduction of an emissions trading scheme, which is going to start in New Zealand from July 1," said Coleman.