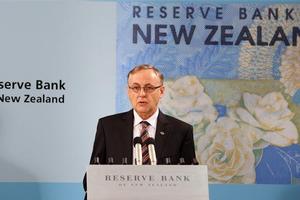 One third of mortgage holders may feel an immediate impact from any OCR hike in the coming months, but some market watchers are now less certain that it will rise next month.
The fragile state of global economic markets could tip Alan Bollard's opinion in favour of holding the Official Cash Rate (OCR) steady until the July review if international markets flare up in the next two weeks, ANZ senior markets economist Khoon Goh warns.
There was a 65 per cent chance of Bollard lifting the rate by 25 basis points (0.25pc) in June, which was likely to have an immediate impact on the one-third of mortgage holders in New Zealand who have their mortgages on floating interest rates, Goh said.
Goh said the likelihood of a rise was less than previously thought because of uncertainty around global financial markets and how the European debt crisis would impact global recovery.
The OCR is currently sitting at a record low 2.5 per cent, where it has been since April 30 last year. The Reserve Bank will next announce whether it will change on June 10.
In a statement earlier this year Bollard said he expected to begin removing stimulus "around the middle of 2010".
Westpac markets economist Michael Gordon said the turmoil in global markets made any hike in the OCR next month a more "calculated risk" than a "no-brainer".
"All the ducks are in a row for the New Zealand economy, it's just the uncertainty around Europe and beyond that is proving to be a bit of a complication," he said.
Gordon said the bank would be using the fact it will get up until the day before the announcement, to make a decision.
Looking ahead, Gordon is picking the Reserve Bank will increase the OCR by 25 points at three out of every four meetings.
Homeowners wanting certainty and flexibility around their repayments may be starting to think about fixing a portion of their mortgages, economists say.
ASB economist Chris Tennent-Brown said homeowners were likely to get the best value from floating or short term fixed rates.
Reserve Bank data shows there was $50.6 billion worth of residential mortgage loans on floating rates with registered banks in New Zealand during March, compared to $19.1 billion two years ago.
There were $111.2 billion of residential mortgage loans on fixed interest rates in March this year, compared to about 127.9 billion two years ago.
Meanwhile $109 billion out of $162 billion worth of residential mortgage loans with registered banks were on floating rates or fixed interest rates of one year or less during March.