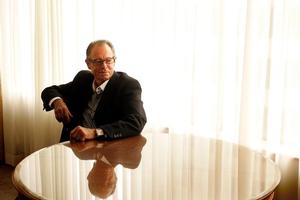 Move over Anthony Robbins. Michael Hill, founder of jewellery retailing chain Michael Hill International, is now entering the life-coaching business.
Hill will hold his first large, public motivational seminar at the Sky City Convention Centre next month and expects to fill the 2500-capacity room.
The event has been inspired by reaction to his book Toughen Up, the 71-year-old entrepreneur says. Since it was published last year he has been inundated with letters and emails.
"The book has had an astonishing response ... It's been quite moving, actually. And it makes me realise that there's quite a lot of people out there that do need help."
Toughen Up describes his journey from Whangarei jewellery store owner to chairman of a publicly listed company with 250 outlets in four countries.
It outlines his roadmap for success based on the philosophy that tough times are good.
Hill says he is writing another book, and the seminar is the start of his campaign to educate New Zealanders on how to achieve their aims.
"There's just some basic principles that are never taught at school or university. I wish I'd have known them, it would have a difference to my life."
He cites things such as goal-setting, - if you ask people what they propose doing in 30 years' time most will look at you blankly.
"Which means they haven't got any long-term vision for their prospects."
Your "neck-top computer" will listen to you, but it will probably be listening to the negatives. That needs to be cleared away to make room for positive self-talk, Hill says.
"That computer is so strong whatever you leave it with, its last thought, it will follow the instruction."
The next trick is to learn to work smarter and to achieve balance in your life, Hill says. When people know where they want to go they usually do too much to get there.
"They try with great excitement to achieve too many things, rather than narrowing down that process to only focusing on the things that will make a difference and get towards their goal."
He has never had an employee that proved themselves by working too hard, he says. "Anyone who's working more than say a 50-hour week would have to have rocks in their head."
The seminars, Hill says, are aimed at people who " feel they could achieve more [but] don't know what it is".
An apostle of healthy eating, Hill says the seminar will also tackle the issue of food.
"We've become so indoctrinated with sugars, salts, transfats ... our tastebuds are completely shot, we don't want to eat anything natural."
Other specialist speakers will also address the four-hour seminar, including his daughter Emma Hill.
THE FACTS
What: Michael Hill motivational seminar
When: June 8, 5.30-9.30pm
Where: SkyCity Convention Centre
Tickets: $69 online, $89 at the door. Proceeds go to Cure Kids
How to register: http://www.curekids.org.nz