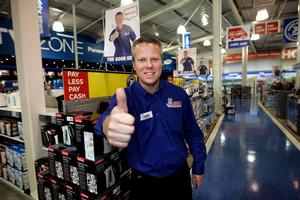 Giant Aussie retailer The Good Guys is aiming to shake up the New Zealand appliance retailing scene with offers of discounts for cash buyers.
With more than 90 outlets across Australia, the company has now opened its first large-format New Zealand store at Wairau Park on Auckland's North Shore.
It would be the first of several, Wairau Park joint venture partner Jim Yule said.
Judging by registrations with the Companies Office, the group is looking at opening other stores in Manukau, Botany and Mt Wellington.
The chain is owned by Muir Electrical Company, a business set up by the late Ian Muir who opened his first electrical store in Melbourne in 1952.
"I think Auckland shoppers will like our signature 'pay less, pay cash' proposition, where customers are rewarded with further discounts for paying with their own money as opposed to credit options," Yule said.
There would be a grand opening in coming weeks, he said. The Good Guys' entry into the market comes as other appliance sellers have closed their doors, unable to weather the continuing effects of the economic downturn.
Appliance retailing was hit hard by the slowing property market and consumers cutting back on discretionary spending.
In January, rival Aussie retailer JB Hi-Fi announced it would close the four remaining Hill and Stewart whiteware stores it owned in Auckland.
The same month, publicly listed home entertainment retailer Eastern HiFi went into receivership, and in February receivers were appointed to kitchen and appliance chain Autel.
John Magness, owner of Auckland chain Magness Benrow, said the recovery had been patchy.
"[Things] are a long way back from where they were and I don't think they'll get back to that for a number of years."
If The Good Guys went well, another retailer would fall over, he predicted.
The chain was known in Australia for charging extra fees for service. "What you pay for is your cash-and-carry price and if you want any service on it you get stung very highly for that."
Discounts for cash were nothing new in the industry. Magness Benrow had been doing it for 30 years.
Chief executive of the Noel Leeming Group, John Journee, agreed. "Our customers can always get the lowest price regardless of how they pay, not just with cash."
Meanwhile, the owner of a local business, also called The Good Guys, says he's not entirely unhappy the Aussie chain has crossed the Tasman.
Graham Dorward, managing director of Takanini-based catalogue retailer The Good Guys says he can live with it.
The local Good Guys group sells clothing, homewares and membership of its Christmas club to people with low incomes. It could not claim exclusive ownership of the moniker because it was in common usage, Dorwood said.
Confusion created by the Australian company's entry had been more positive than negative. When he advertised for staff recently he got more applicants than usual because of media coverage of the Muir-owned Good Guys.