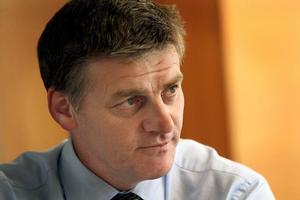 The Government is warning that New Zealand's fragile economy could be in for trouble with the prospect of property markets crashing in our biggest export markets.
Finance Minister Bill English, relaxed and in good humour at a post-Budget gathering of South Island business people yesterday, said the Government was putting New Zealand on a path to greater prosperity but some things were outside its control.
He was concerned about the potential for property-market crashes in Australia and China - New Zealand's two biggest export markets.
"There's a couple of vulnerabilities there," Mr English said. "One is that the Chinese have had very rapid growth, particularly in their property market, and it looks like a property bubble. And we know that when property bubbles burst, that can have an impact. And that would have an effect on Australia, and then an effect on us.
"And Australia does have a bit of its own property boom going on as well. And we would hope that rising interest rates over there will contain that, because otherwise it stores up trouble for down the track.
"So our interest is in both of those economies having high levels of sustained growth, because that will help us."