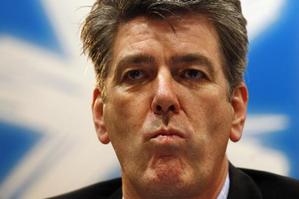 Telecom shares dropped as low as $1.98 yesterday before closing down 6c at a historic low of $1.99.
In part the fall reflected an overall drop in the market which saw the NZX top 50 stocks lose more than 2 per cent, said ASB Securities adviser Stephen Wright.
But he described Telecom's current price as "the fall of the mighty" as negative sentiment about government regulation, uncertainty over Telecom's role in the ultra-fast broadband plan and competitive pressures weigh on the stock price.
"It's a dividend yield stock, no doubt about that, but tell me the last time we had some good news on it," said Wright.
Telecom is set to change its dividend policy from the next financial year.
At present Telecom has a 24c dividend floor but the new policy will set a dividend target of 90 per cent of adjusted net earnings, most likely on a fully imputed basis.
When announcing the new policy this month, Telecom chief financial officer Russ Houlden said New Zealand shareholders could expect a dividend yield next year similar to the current payout.
Overseas investors would not be able to claim imputation credits on dividends, which analysts forecast to be between 15c and 20c next year.
Commonwealth Bank of Australia is the most recent institutional investor to sell out of the stock, cutting its 5.03 per cent holding to 4.46 per cent this week.
Telecom staff and directors are among individuals with the biggest shareholdings.
Chief executive Paul Reynolds' shareholding of 382,249 shares - 0.02 per cent of the company - has a current market value of just over $520,000.
The shares were allocated to him in two parcels as part of his remuneration package - 101,991 in September 2008 worth $320,251 ($3.14 a share) on the day and 280,258 in September 2009 worth $759,499 ($2.71 a share) on the day.