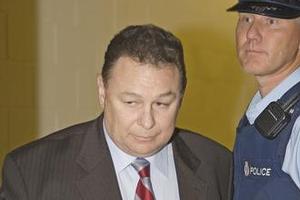 No one got what they wanted yesterday - not Mark Bryers or 30-odd investors who spilled out of courtroom 11.
Former Blue Chip director Bryers, normally charismatic and articulate, sat silently for two hours in an Auckland District Court dock, avoiding eye contact with investors who had come along hopeful of a pound of flesh.
They had wanted a jail sentence, though that was a possibility in only one of 34 charges he was sentenced on.
Bryers had wanted his offending dealt with by way of fine only. His lawyer, Aaron Lloyd, referred to a letter from Bryers' employer noting that the hassle of their employee having to return from his Sydney home to do community service in New Zealand might make it not worth employing him.
His employer is Northern Crest Ltd, previously named Blue Chip Financial Solutions, the sole remaining remnant of the Blue Chip group. It is now run by Australians with the assistance of Bryers, acting as a consultant.
Bryers is paid up to $144,000 a year ($10,000 to $12,000 a month). That information is contained in a probation report examining Bryers' ability to pay a fine. Though the report is filed with the court, the figure wasn't stated in court. Vic Noble, an investor himself, had to remortgage his house to help out his parents because of their Blue Chip losses. He hoped to see Bryers jailed. A fine and community service wouldn't cut it.
"I'd be happy to scrap the community service, scrap the fine and have five minutes alone with him," said Mr Noble during a court break.
In the dock, Bryers, 52, spruce in dark suit, blue, red and grey tie, hair an incongruous black, looked pallid and nervous.
The court was prepared for trouble but unprepared for the number of people who wanted to see the sentencing. One of the smaller courts had been allocated, for which Judge Chris Field apologised.
There were five security guards in the corridor outside keeping an eye on mainly elderly investors. Inside, two guards patrolled the public gallery.
The public listened in silence as the judge described Bryers' behaviour in relation to the charges as "an egregious lapse of duty".
Bryers showed not a flicker when the judge sentenced him to community work and the inconvenience of having to return from his Sydney home to do it, and promptly disappeared through a door leading from the dock.
Though prosecutor Mark Woolford had wanted to make it clear the charges were not fraud charges and they could not place any link between them and Blue Chip, investors were disappointed with the sentence.
"Seventy-five hours," said Mr Noble. "I might go and start up a finance company."
BRYERS IN COURT
*Avoids jail.
*Sentenced to 75 hours' community work and a fine of $37,500.
*Income of up to $144,000 a year revealed.
*Had previously pleaded guilty to 34 charges relating to book-keeping and record-keeping failures, as well as failing to attend a creditors' meeting.
*Blue Chip collapsed in 2008, owing around 3000 investors more than $80 million.