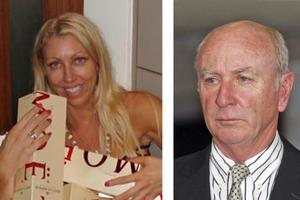 The Serious Fraud Office has accused Bridgecorp director Rod Petricevic of making fraudulent payments totalling more than $1 million to a "sham" business run by a personal acquaintance.
The SFO yesterday filed seven criminal charges, two of which relate to $1.2 million in Bridgecorp funds that Petricevic allegedly paid to an enterprise run by Auckland woman Janita Wright.
Ms Wright is an ex-model who is listed as a director of a tanning supplies business. Although the SFO named her in a statement yesterday, there is no suggestion she was aware of any alleged fraud, and she has not been charged.
The SFO says Ms Wright operated a business with the trading name ABb that invoiced Bridgecorp for marketing consultancy work, database management, the operation of an after-hours call centre and other business expenses.
But it alleges this work was either not done or the sums invoiced were out of proportion to the quality and quantity of the services provided and to the qualifications, skills and experience of Ms Wright.
The SFO said yesterday that the business was "in essence a sham to enable Mr Petricevic to make alleged fraudulent payments from Bridgecorp".
It described Ms Wright, who is now listed as a director of Combined Tanning Supplies, as a "personal acquaintance".
Ms Wright did not answer the phone or the door at her East Auckland home last night.
The seven Serious Fraud Office charges laid yesterday involve a total $5.2 million.
As well as the charges against Petricevic over the alleged ABb payments, he and fellow director Robert Roest have been charged under the Crimes Act over the purchase of the luxury vessel Medici. It was allegedly bought and the operating costs paid with $1.8 million in Bridgecorp money but it was owned by Poseidon, a firm Petricevic directed and owned. It is also alleged Petricevic and Roest provided a security for a loan to Poseidon.
Of the seven charges laid, five are against Roest and Petricevic and two are solely against Petricevic. If convicted, they face up to seven years' jail on each charge.
Bridgecorp collapsed in 2007 owing 14,500 investors almost $460 million.
Petricevic, Roest and fellow Bridgecorp directors Gary Urwin, Bruce Davidson and Peter Steigrad were committed to trial this month for charges laid by the Securities Commission.
They each face 10 Security Act charges for their roles in issuing a company prospectus. They have pleaded not guilty to all charges.
Petricevic and Roest have been banned from directing or managing a company for five years from May 29, 2009.
SFO director Adam Feeley said: "There have been extensive and exhaustive investigations into the failure of Bridgecorp, and these final charges effectively bring all those inquiries to a conclusion."
The SFO has also investigated a number of large commercial transactions involving Bridgecorp and other companies where there were common investors or related interests.
Mr Feeley said that due to these new charges, the Crown might consider revising charges which had already been laid.
"The Bridgecorp investigation was critical to both the wider investigations into failed finance companies and the SFO's longer-term strategy for fighting corporate fraud.
"There has been a public perception that all the finance-company failures have involved fraud. This is simply not correct.
"However, in order for the public to have confidence in our financial markets, it is important that we act where there is evidence of criminal offending and that we close cases where no evidence or insufficient evidence exists."