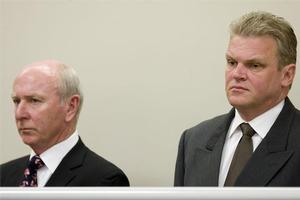 Rod Petricevic, the managing director of failed financier Bridgecorp, is to face charges relating to the fraudulent acquisition of a $1.8 million luxury boat and another matter, the Serious Fraud Office (SFO) said today.
It said additional charges were being brought against Petricevic and finance director, Robert Roest.
SFO director Adam Feeley said the charges related to two set of circumstances and are the final charges laid after an exhaustive investigation.
"The first set relates to an allegedly fraudulent acquisition of a luxury boat, the Medici, purchased using Bridgecorp funds totalling $1.8 million. The second concerns allegedly dishonest payments totalling $1.2m of Bridgecorp funds authorised by Petricevic to a business entity called ABb".
The SFO had also investigated a number of large commercial transactions involving Bridgecorp and other companies where there were common shareholders or other related interests.
"We have concluded that, to the extent that we believe any frauds may have been committed, criminal charges in respect of these transactions can be addressed by action already commenced by other agencies, and the Crown may consider revising the charges which have already been laid in respect of those matters."
Bridgecorp collapsed in 2007 owing 14,500 investors almost $460m. Separately, Petricevic and Roest have been banned from managing a company for five years.
Feeley said that concluding the Bridgecorp investigation was critical to both the wider investigations into failed finance companies, and the SFO's longer term strategy for fighting corporate fraud.
"There has been a public perception that all of the finance company failures have involved fraud, and this is simply not correct," Feeley said. "However, in order for the public to have confidence in our financial markets, it is important that we act where there is evidence of criminal offending, and that we close cases where no evidence, or insufficient evidence, exists."
Feeley said the recent organisational changes at the SFO were designed to ensure that it was better structured to respond more quickly to allegations of major fraud.
- NZPA