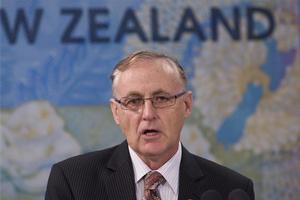 Reserve Bank Governor Alan Bollard says Europe's credit crisis looms over New Zealand's financial stability, which has benefited from the sharp recovery in Australia and emerging Asian economies.
"As an external debtor country, New Zealand could be vulnerable to any renewed deterioration in global debt markets," Bollard told a media conference in Wellington.
The sovereign debt crisis in Europe has weighed heavily on financial markets over the past few weeks and "there is clearly a risk of further turbulence if adequate progress is not made," he said.
Financial markets have been spooked by the prospect that the so-called PIGS (Portugal, Ireland, Greece and Spain) may default on outstanding debt, and their sovereign credit issues could spread throughout the region and across the Atlantic.
Since then, the Euro-zone has put forward a 750 billion euro stabilisation package, as well and tapping member nations and the International Monetary Fund to source loans for cash-strapped Greece.
Investors' appetite for risk has been subdued in the past month, with the Chicago Board Options Exchange's Volatility Index, or VIX, commonly known as Wall Street's 'fear gauge', climbing to credit crunch levels.
Still, the outlook for New Zealand's financial system had improved with a strong lift in the country's terms of trade which was driven by the booming Chinese economy and its demand for Australian goods, Bollard said in the Reserve Bank's Financial Stability Report.
The central bank report found banks had weathered the global financial crisis well, and said profitability will continue to improve this year, though it was unlikely to return to pre-crisis levels. Bank profits plunged in New Zealand last year due to increased provisioning for bad loans, and the $2.2 billion tax bill saddled on lenders over structured finance transactions.
Deputy governor Grant Spencer said banks' credit growth was restrained through New Zealand's recession, but he expects they have "the capacity to meet an increase in demand for credit and doing so will be important to sustain the economic recovery."
Business activity has picked up over the past year as New Zealand's economy climbed out of its worst recession in 18 years, though the central bank report said lending to firms was continuing to contract, and moderate growth will be necessary for a sustainable recovery.
Data yesterday showed producers reported a bigger increase in their output prices than the rise in costs for their inputs as surging dairy prices outstripped increased electricity costs.
"While banks are likely to continue to take a more cautious approach to lending practices, it is expected that they will be prepared to reverse some of the recent tightening in lending standards," the report said.
"At the margin, some businesses (particularly those in higher risk industries) could continue to find it difficult to access credit on favourable terms in light of the contraction of the finance company sector."
The Reserve Bank expects more consolidation in the non-bank deposit taking sector, as finance companies struggle with looming liquidity stresses when the government's retail deposit guarantee expires in October.
Only five finance companies have been accepted into the extended guarantee, which lasts until the end of 2011, and the central bank report predicts non-bank lenders "may encounter difficulties if investor confidence is not rebuilt in the coming months."
Bollard said New Zealand households have increased their savings which has helped bolster the country's financial stability.
It's important for New Zealanders to "maintain a cautious approach to debt accumulation as the recovery continues," even if that damps economic growth over the coming years, he said.
Mortgage holders, particularly first home buyers, will probably "experience renewed stress as interest rates rise" in the coming months with some 40 per cent of borrowers on floating rates.
Bollard indicated he will start tightening monetary policy in the foreseeable future, and markets are betting he hikes the official cash rate by 182 basis points over the next 12 months, according to the Overnight Interest Swap curve.