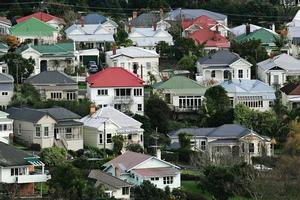 I am sure this week's Budget will be tough on residential property investors. All the signs point to the end of claiming depreciation, and possibly the ring fencing of property tax losses so that they cannot be offset against other income. This will diminish investors' cash flow and remove much of the investment case for residential property.
There are good economic reasons for doing this - as Bill English said to me some years ago, we won't get rich as a country selling houses to each other. It's hard to argue with that.
However, there is a problem. One of the reasons that people go into residential property is that they have no other investment ideas. They think they know and understand residential property (and it always goes up in value, doesn't it?) and they do not understand any of the other investment options.
There are thousands of alternatives, from commercial property to international shares, hedge funds and emerging markets.
As a nation we are expert at buying and renting houses. There are many courses, books, seminars magazines and websites available to teach you how to speculate on residential property but virtually nothing on the alternatives.
Where are the courses on shares? How do you learn about bonds? Who is promoting imvestment in emerging markets?
It will be hard to encourage Kiwis into investments outside residential property.
For a start, there is not a lot of knowledge about the basic principles of investment which means that instead of looking for solid investments with good yields, many speculate on residential property price increases.
Second, specific investment options are not well known and discussed.
Third, Kiwis do not trust many investments which involve other people looking after their money. This distrust has some justification - the finance company debacle and some of the weak boards of directors would make anyone start to think about bricks and mortar.
Government will wave the big tax stick in the budget but that is only part of the job. It and other agencies such as the NZX have to tell and sell the story of the many good alternatives to buying and selling houses.
Residential property is deeply ingrained in the Kiwi psyche and to shift behaviour, government and the financial services industry will have to point out the carrot as well as threaten with a stick.
* Martin Hawes is a financial adviser. His disclosure statement can be found at www.martinhawes.com.