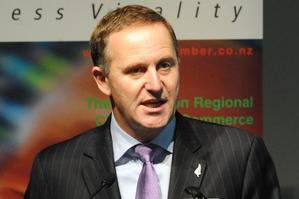 Research, Science and Technology will be a major recipient of funding with the Government pumping $225 million into the sector in next week's budget.
Prime Minister John Key announced today $321m for new initiatives including $96m of reprioritised money over four years.
"The Government wants to establish a high-performing public science system which supports economic growth, and a wider innovation system that encourages firms to increase their investment in, and application of, research," he said in a speech in Wellington this morning.
Mr Key said most government agencies would see no increase in funds in this month's budget but science was a priority and it would get the biggest boost behind health and education.
"Our goal is for firms to be making better use of R&D (research and development) to take greater advantage of market opportunities."
Mr Key said the funding includes a $234m boost for business support and development over four years.
This included $189.5m for technology development grants to support R&D in businesses that already do significant amounts of R&D.
Mr Key said the technology development grants would be targeted a medium to large research-intensive firms that could show their work benefitted the country.
"These will almost certainly include, but are not limited to, firms that undertake high-value manufacturing."
The Government would contribute 20 per cent of firms' R&D spend for three years to a capped maximum.
Another initiative was $20m to trial technology transfer vouchers, which will encourage links between companies and publicly-funded research organisations.
The vouchers would be targeted at firms who did not have strong in-house capability but would benefit from working with a public research organisation like a university.
Firms would be able to apply for a voucher of between $100,000 and $200,000 - which they could use to complete a project. Projects would also have to have wider benefits than just to the firm.
Other initiatives included:
* $11m to support technology transfer from research organisations to businesses and commercialisation of new products and processes.
* $13.7m in contingency funding for initiatives to improve the transfer of technology from research organisations to the private sector.
* $25m over four years for the Rutherford Discovery Fellowships which will support early to mid-career researchers.
* $9m over three years, starting in 2011/12 to attract top science entrepreneurial talent to New Zealand.
* $44.3m over four years in contingency funding for proposed large-scale science infrastructure, subject to Cabinet approval.
- NZPA