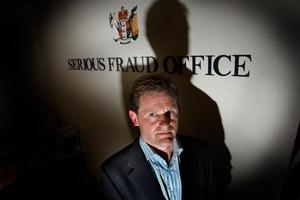 The Serious Fraud Office has dropped eight investigations since its biggest shakeup in 20 years, but says charges on other cases will be announced soon.
Present SFO boss Adam Feeley confirmed six cases had been closed and two others referred to other authorities to investigate.
He said the decisions to close cases were based on Solicitor-General guidelines in which the investigations did not have enough evidence, or a prosecution was not in the public interest.
One of those cases was Clegg & Co Finance - which collapsed leaving 500 investors at least $6.5 million out of pocket - because Brian Clegg had already been sentenced on Companies Office charges.
"I would hazard a guess that most New Zealanders would prefer a small number of cases successfully investigated and prosecuted, within a relatively quick time, where they involved issues of major impact and significance, than a large number of small frauds which have relatively little impact on the broader public," said Mr Feeley.
But he has authorised charges to be laid in four other cases, three of which he described as major frauds .
On top of those cases, Mr Feeley said a decision on Bridgecorp was imminent. He was also waiting on external legal advice before making a decision on finance companies Five Star and Blue Chip.
In recent weeks, the SFO has removed the target of convicting 90 per cent of the people it lays criminal charges against.
SFO Minister Judith Collins has said she was aware of criticisms the target pushed the agency toward easier cases that would boost its conviction rates, rather than the "serious and complex fraud" it was set up to target.
"I would not want [the SFO] to take cases that might be better left to other agencies. I want them to be stretching themselves."
The comments prompted former director David Bradshaw to break his longstanding policy of not speaking to the media.
Known for neither confirming or denying whether someone was under investigation, Mr Bradshaw told the Weekend Herald that he was "irked" by the suggestion the SFO took on easy cases to boost the conviction rate.
"It irked me because the 90 per cent rate was never, in my time, a consideration for any case in whether you took it on," said Mr Bradshaw.
"When the case came in, you don't sit there and think, 'I'm sitting at 80 per cent, I need two more easy cases'. Certainly we wouldn't waste our time on trivial stuff. But we never turned anything away because it was too hard."
Instead of being a target to achieve, Mr Bradshaw said the 90 per cent success rate was the end result of thorough SFO investigations.
"The only time the 90 per cent figure was bandied around was when I wrote the annual report to be tabled at the Parliament select committee.
"We had 30 minutes to report on a year's work and we would be asked: 'What was the success rate?' and 'Did you meet the 90 per cent?'
"But what is a successful case? Is it unsuccessful when you charge five people and one gets acquitted? Or lay 20 charges and there are not guilty verdicts on four?"
Mr Feeley could not comment as to whether the 90 per cent conviction rate influenced previous directors, but said it was the sole performance indicator by which the SFO was measured.
He said any specific target rate was likely to drive "perverse behaviours" where a high target would lead to "excessive caution", while a low target would create a "lazy or sloppy approach".
"Ultimately the SFO will be publicly judged on its successes, irrespective of any arbitrary internal standard," said Mr Feeley.
He recently led a dramatic overhaul of the white-collar crime agency, with senior staff members Gib Beattie, Ian Varley and David Osborn leaving under the restructuring.
With 50 years of SFO experience between them, the trio have set up a private forensic investigation firm called Beattie Varley and Associates.
The trio were excited about the opportunity to work as private consultants in financial investigation and forensic accounting.
FILES SHELVED
The cases shut by the SFO include:
* Clegg & Co Finance Ltd: Collapsed leaving 500 investors at least $6.5 million out of pocket. Brian Clegg sentenced to 12 months' home detention after pleading guilty to Companies Office charges.
* A New Zealand-based company investigated in relation to an overseas-based deal of nearly $1 million.
* A lending firm funded through a complicated investment scheme, which has written off $60 million of investments.
* A company investigated over financial transactions in the Cook Islands.