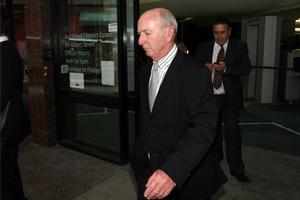 The accountant who reviewed Bridgecorp's prospectus was suspicious that a loan made to Barcroft Holdings was a related party loan, but did not have the evidence to support it, the Auckland District Court was told today.
The $76 million loan was made in 2006 and was not approved by the Bridgecorp board, nor did that loan meet normal lending criteria.
According to an earlier Ministry of Economic Development report, Barcroft was used as a "conduit" to finance the seven entities that Gary Urwin - a Bridgecorp director - was the principle director of.
The former directors of the failed finance company Bruce Davidson, Rod Petricevic, and Rob Roest, together with non-executive directors Urwin and Peter Steigrad are facing 10 charges brought by the Securities Commission relating to issuing flase company prospectuses.
Ministry of Economic Development accountant John McPherson was the last witness to be called today in the depositions hearing to determine whether they will eventually face trial.
He, together with Wellington barrister Hugh Rennie QC and investigating solicitor Ian Ramsay were involved in the review of Bridgecorp's December 2006 prospectus.
"It's obvious where we got to the point where there was residual suspicion that Barcroft was a related party but we could not demonstrate that because ultimately the entity was a trust in Fiji and we had no way of knowing what that trust represented," he said.
Even to this day McPherson said he did not know whether Barcroft was a related party.
"If we had evidence there was something wrong with it the prospectus would not have been registered," McPherson said.
Bridgecorp collapsed in July 2007 owing about $460 million to 14,500 investors.
Debenture holders are likely to receive less than 10c in the dollar.
The case continues.