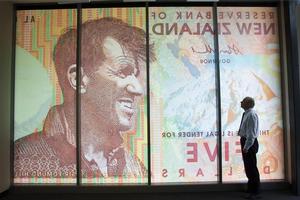 The New Zealand dollar surged today when a stunningly low unemployment figure and a speech by the Reserve Bank of New Zealand Governor Alan Bollard left investors in no doubt that the official cash rate will rise in June.
New Zealand's unemployment rate had its largest fall on record in the March quarter, dropping 1.1 percentage points to 6 per cent, as the seasonally adjusted number of men employed full time surged 1.9 per cent, Statistics New Zealand said at 10.45am.
Earlier at 10am Bollard gave a speech that was interpreted as a signal that the official cash rate will rise sooner, rather than later.
"The unemployment data was more important for the sheer magnitude of the shock. People fell off chairs," said Imre Speizer, currency strategist at Westpac.
The NZ dollar rose from US71.70c to US71.90c around the time of Bollard's speech, drifted higher, then surged from just over US72c to US72.75c on the unemployment data.
It was trading at US72.60c by early afternoon from US71.68c at 8am and US71.90c at 5pm yesterday. It had traded as low as US71.40c on Wednesday night.
Speizer said Bollard played down the turmoil surrounding Greece's finances as an issue for the New Zealand economy and talked about the commodity price story.
Last week the Rsserve Bank left the official cash rate unchanged at 2.5 per cent. It has been at this historically low rate for a year now.
In last week's review, the bank said it expected to begin removing policy stimulus over the coming months, provided the economy continued to evolve as projected and Bollard said the wording was deliberate.
"With an official cash rate at an historically low level of 2.5 per cent we are clearly in a very stimulative position.
"Using a truck driver analogy, our foot is strongly on the accelerator. Over coming months we expect to reduce the pressure on this pedal, but in effect to keep some throttle going.
"Truck drivers know they must reduce acceleration long before the corner. We are not talking about tightening policy yet. We do not expect to have to touch the brake pedal for the some time."
Speizer said the overnight index swap market was indicating a June rise was 100 per cent priced in.
The employment report was the strongest evidence yet that it was all systems go for a rate rise.
The NZ dollar also rose to it highest level in nearly three years against the euro at 0.5676 euro this morning. It was 0.5551 at 5pm yesterday.
Anxious investors sold European stocks and took refuge in the US dollar.
Moody's put Portugal's credit rating on review for a possible downgrade.
"Contagion fears are driving the market and add to pressure on the euro, as does the ongoing civil unrest in Greece that may make it hard to institute reforms," said Brian Dolan, chief currency strategist at Forex.com in Bedminster, New Jersey.
Against the Australian dollar, the NZ dollar rose to A80.00c, and at 68.05 yen from 67.95 yen. The trade weighted index was 68.73 from 67.95 at 5pm.
- NZPA