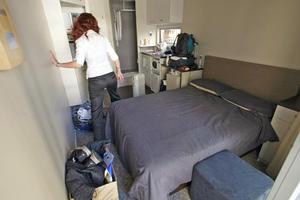 Tourists are paying more than $17,000 a week to stay in hotel rooms barely bigger than a prison cell during the Rugby World Cup - but Australian tour operators say other fans will be turned off because of exorbitant hotel prices.
Australian tour operator weloverugby.com says its clients are now asking about flying in and out of New Zealand on the same day as matches because they don't want to be ripped off.
The Hilton Hotel in Auckland had quoted prices of $1700 a night for a minimum 10-night stay during the cup, said weloverugby.com managing director Warren Livingstone. He claimed this was not an isolated case.
Yesterday, the Hilton refused to comment, saying it had not publicly released its prices.
Livingstone said other hotels had increased their rates by 400 per cent and some by up to 1000 per cent.
Herald inquiries yesterday confirmed that hoteliers were lifting their prices - but some said tour operators such as Livingstone were charging even more.
A week-long stay at the All Seasons Hotel in Wyndham St, central Auckland - which has rooms barely bigger than a prison cell - would usually cost about $550.
But this has been lifted to $2700 a week for the cup next year - about $385 a night.
A larger $17,544 seven-night package at the All Seasons - which includes tickets to the cup semifinals, bronze final and final - is being offered by Livingstone's company.
All Seasons staff member Kenji Chien said the hotel usually charged about $79 to $89 for a room, per night, but prices were bumped up for big events in the city.
The three-star hotel does not have room service, but each room has a small TV, a radio, kitchenette facilities including a microwave and fridge, an iron and board, as well as a "nice balcony and view", Mr Chien said.
The hotel, which has 144 rooms, is booked out for the Rugby World Cup.
Livingstone predicted cup attendance by international fans could be the lowest his firm had handled for such a big event.
"Rugby fans want to travel to New Zealand next year. It is one of the great rugby tour destinations in the world, but I think the organisers need to look at a solution."
Establishment of an "accommodation bank" to centralise booking arrangements for cup visitors had been a good idea, Mr Livingstone said, but the hotels involved were over-charging.
"The organisers need to have more accountability for the hotel prices when a deal is done to host these big events."
The accommodation bank scheme is a move by the company organising the cup tournament, Rugby NZ 2011, to secure thousands of hotel rooms all over the country.
The rooms will go to teams, officials, dignitaries and international visitors on package deals.
But some Auckland hotels involved with the weloverugby.com packages are unimpressed with the prices Livingstone is charging.
A three-night stay at the Greenlane Manor Motel would usually cost around $500. Livingstone's company has a three-night package, with final tickets, at more than $7500.
"He's cutting the ticket, isn't he?" said the motel owner, who did not want to be named.
"I don't think that's quite on. We've only gone up about $50 a night ... I don't believe it's fair - we want these people to come back."
At the Lincoln Green Hotel in Henderson, staff were shocked to learn that rooms there are being marketed at $8554 for a couple for three nights and tickets to the final.
"That's no good. I'm pretty sure [my manager] won't be happy," a staff member said. "How the hell are they doing that? That's not fair - that's terrible. What a shocker."
Livingstone, who is in Sydney, was last night "too busy" to discuss his pricing in any more detail.
Other international hotel chains - including the Hyatt Regency, Stamford Plaza and the Langham - refused to discuss their room rates for the Rugby World Cup period.
Earlier, the general manager of Australian Sports Tours, Sam Harrison, said some New Zealand hotels were asking "ridiculous" prices.
But Hospitality Association chief Bruce Robertson said Livingstone's fears were just an Australian beat-up, and it was too early to start talking prices.
The Australians charged the same sort of rates when they hosted the Sydney Olympics, he said.
Hotel Council chairwoman Jennie Langley said last night that prices set by overseas tour operators were "beyond our control", but "the market will rule on the day".
TOURIST SHOCKED OVER B&B QUOTE
A British woman was horrified to discover she had been quoted $1600 for a one-night stay in a Mt Eden bed and breakfast during the Rugby World Cup.
Jacqui Marsden said she was shocked at the quote, which she was given following an email inquiry to Eden Park Bed and Breakfast in Bellwood Ave last month.
The email from host Anthony McAnulty says: "We are trying for a total reservation for the entire property but have to be prepared that it may not happen.
"For the semis, bronze plate and final over the two weeks our price is NZ$1600.00 per night for the room (min 10 nights)."
McAnulty initially denied quoting a customer that price before viewing the email and stating he must have put in the wrong figure. He would not say what the correct price was, but said it was far less than the amount quoted. "This is a commercial pricing arrangement between myself and a client."
- Susie Nordqvist