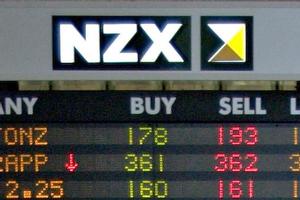 New Zealand shares yesterday took their heaviest losses this year as concerns about Greece and the wider European debt crisis refused to abate.
A US$144 billion ($200 billion) deal to bail out the beleaguered Greek economy has not been enough to head off fears the crisis may spread.
The NZX-50 closed down 1.5 per cent and the New Zealand dollar fell. Across the Tasman the ASX200 was down 1.3 per cent.
Asian stocks also took a battering with Hong Kong's Hang Seng down 2 per cent last night.
Britain's FTSE 100 was down 0.5 per cent in early trading.
The global rout followed Wall St's biggest drop in three months overnight on Tuesday.
The falls were a reminder that it does not take much to rattle investors who are alert for anything that could disrupt the economic recovery.
The volatility is expected to continue as investors await answers on Greece but analysts said most drops should be followed by rallies as buyers have for months seen pullbacks as opportunities.
The sell-off followed a big climb on Wall St overnight on Monday and was reminiscent of the fearsome swings in 2008 and early 2009 when investors were panicked over how bad the recession would get.
Scott Fullman, director of derivatives investment strategy for WJB Capital in New York, said the sudden turns in the market were to be expected as traders wrestle concerns that stocks are overheated.
"The market has kind of gotten itself into a volatile trading range," Fullman said.
The trouble in Greece gave investors enough reason to worry that other financially strapped European Governments could follow in asking for emergency loans. Traders have been sceptical that Europe can act on its own to restore the credibility of the euro.
- AP, STAFF REPORTER