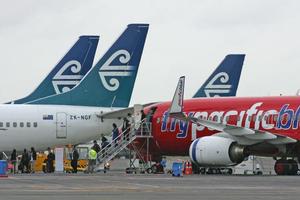 A transtasman alliance between Air New Zealand and Virgin Blue has to clear some major regulatory hurdles, analysts say.
First NZ Capital analyst Jason Familton put the chances of approval at 50:50.
"It's not a done deal," Familton said.
"Quite clearly the regulator hasn't liked these types of alliances across the Tasman before between Air New Zealand and Qantas."
However, a disallowed agreement in 2006 between Air New Zealand and Qantas involved a roughly 80 per cent market share, whereas the current deal would account for about 55 per cent, he said.
The new agreement looked sensible on the face of it, with benefits for both parties, Familton said.
"It's quite hard to assess financially how beneficial it will be. I guess capacity changes will be the key thing and how much rescheduling they can do for the services that they both offer at the moment," he said.
Virgin Blue owns Pacific Blue in New Zealand.
Air New Zealand chief executive Rob Fyfe said the main benefit would come from increased passenger numbers, an optimised network and, consequently, more stable revenue, rather than cost savings.
"We believe the alliance has approximately $20 million-$30 million benefit to Air New Zealand per year, with most of this in revenue upside from carrying more passengers," Fyfe said.
The number of seats flown over the Tasman by the two carriers would grow faster than without the alliances.
"By combining our New Zealand customer base with the strong market presence that Virgin Blue has in Australia, additional flights and new routes will make sense much more quickly," he said.
The alliance, if approved, would be one of several measures to improve the airline's competitive position on the transtasman in the face of the Qantas Group's two-airline move for regional dominance, Fyfe said.
Air New Zealand shares closed down 2c yesterday at $1.34.
Virgin Blue Airlines Group co-founder and chief executive Brett Godfrey said the transtasman was highly competitive, with seven airlines and two more carriers signalling an intent to start flying later this year.
The arrangement would be worth comfortably in excess of A$15 million ($19 million) a year before contemplating benefits of cost savings, Godfrey said.
"Today, we will be filing documents with the regulator seeking authorisation of the alliance and although not wanting to pre-empt the outcome it is fair to say that we wouldn't have come this far if we didn't see that the transaction was pro-competition."
Forsyth Barr head of research Rob Mercer said it had a better-than-average chance of approval.
"Because the way that it's been structured looks like it's sitting on the right side of providing enough public benefit over the detriments that could flow from such an alliance and that there is still plenty of competition on the Tasman with all the fringe carriers between Auckland and Australia, and Qantas," Mercer said.
It would be critical that the Australian Competition & Consumer Commission did not view the alliance as reducing the frequency and competition of direct services, he said.
THE DEAL
Air New Zealand and Virgin Blue alliance:
* Code share arrangement to cover the Tasman, plus domestic travel in Australia and New Zealand as part of a connecting journey.
* Revenue generated across the Tasman allocated between the two carriers.
* Frequent flyer co-operation and reciprocal loyalty benefits.
* Access to lounges for qualifying passengers of either airline.