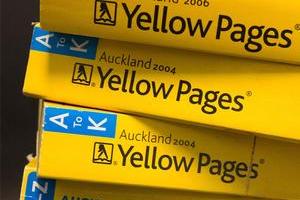 By Gareth Vaughan
Yellow Pages Group, which owes its lenders about NZ$1.72 billion, looks set to be put on the block for sale by its nervous banks who want to limit the losses they will have to book on the debt. BNZ, ANZ and Westpac are all owed significant amounts by Yellow Pages.
Interest.co.nz understands Yellow Pages' key lenders want to test the market for the directories business, have formed a steering group and are seeking an investment bank to advise them.
A standstill agreement, including on interest payments, has been put in place until May 31 to buy some time. A likely sale of Yellow Pages comes as chief executive Bruce Cotterill expects trading conditions to remain tough until the second half of next year.
Yellow Pages produced flat earnings and revenue last year and coughed up annual interest payments of NZ$154.3 million on its debt mountain that totals more than 10 times its NZ$166.3 million in annual earnings before interest, tax, depreciation and amortisation.
Internationally the directories industry has also been under the pump with bankruptcies and balance sheet restructures in the United States and Britain due to recession and customers shifting searches and advertising away from phone books to the internet.
Against this backdrop the holders of Yellow Pages' NZ$1.175 billion senior debt facility are keen on a sale of the business, which is expected to be worth much less today than the eye-watering NZ$2.24 billion the current private equity owners paid Telecom for Yellow Pages in March 2007, as they seek to recover their loans.
Private equity groups and other directories business owners are seen as potential buyers.
Senior debt holders include facilitation agent (lead banker) the BNZ, ANZ, Westpac, Deutsche Bank, Credit Agricole Corporate and Investment Bank (formerly Calyon), Barclays, Macquarie Group, Allied Irish Banks and the Royal Bank of Scotland.
It's understood the banks can't force shareholders to sell until Yellow Pages breaches its banking covenants, which it is expected to do.
A prospectus for Yellow Pages' ultimately cancelled NZ$300 million 2007 retail bond offer noted: "A breach of the financial covenants is a senior event of default and the senior participants may, at any time while the breach occurs, cancel any advance or the senior facilities in full or demand payment of the outstanding principal and all other secured money owing to the senior finance parties."
Despite the banks' enthusiasm for a sale, it's understood all is not yet lost for current shareholders. Aside from a trade sale or initial public offering, a debt restructure among the firm's existing lenders and an equity injection from shareholders will also be considered.
After fighting off stiff competition from other private equity groups, Hong Kong-based Unitas Capital - formerly CCMP Capital Asia - and Canada's Ontario Teachers' Pension Plan paid Telecom between 13 and 14 times Yellow Pages' annual earnings before interest, tax, depreciation and amortisation three years ago.
That was just before the global credit crunch brought an era of cheap credit and high asset prices to a shuddering halt. The buyers used NZ$1.5 billion of debt to help fund the deal which was promptly loaded on to Yellow Pages' balance sheet.
Along side the senior debt facility, Yellow Pages has working capital and capital expenditure facilities, each valued at NZ$50 million. The working capital facility is provided by ANZ and Westpac. The company also has a NZ$315 million subordinated debt facility and a 'Payment in Kind' facility of NZ$228 million.
Providers of the subordinated loans included Barclays Capital, ABN Amro and Deutsche Bank. Interest.co.nz was told Yellow Pages' total debts are quite well dispersed among its up to 36 lenders although some have already booked losses against their exposures.
The Accident Compensation Corporation was among Yellow Pages' lenders. Spokesman Laurie Edwards said ACC had sold its entire holding and no longer had any exposure to the directories firm.
Citing commercial confidentiality, Edwards declined to provide further details. For the June 2009 year Yellow Pages posted a NZ$338.3 million loss compared with a NZ$61.2 million loss the previous year.
The loss was blown out by US$350.9 million of non-cash charges stemming from a NZ$195.5 million goodwill impairment charge and a NZ$155.4 million write-down of interest rate swaps.
The group's NZ$4 million, or 0.7 per cent, revenue growth to $296.9m was significantly slower than its $15.5 million, or 11 per cent, increase in expenses, to $156.2m. As of June 30 Yellow Pages' total equity stood at NZ$232.3 million.
In the US directories groups Idearc, spun off from Verizon four years ago, and R.H. Donnelley both emerged from Chapter 11 bankruptcy protection this year with new names - SuperMedia Inc and Dex One Corporation respectively - having cut their combined debt by about US$12.25 billion (NZ$17 billion).
Britain's Yell, which like the two American firms is sharemarket listed, restructured its balance sheet late last year with the help of a £660 million (NZ$1.4 billion) issue of new shares. And closer to home Telstra's Sensis has problems of a different nature.
In a case being appealed by Sensis, an Australian Federal Court judge has ruled there is no copyright on the White Pages or Yellow Pages produced by Sensis arguing there's nothing especially creative about how phone books are compiled and that an author can't be identified.
Bank facilitation agent the BNZ declined to comment for this story, citing customer confidentiality. Both Yellow Pages CEO Bruce Cotterill and a company spokeswoman, plus a spokeswoman for Unitas, also declined to comment.

INTEREST.CO.NZ