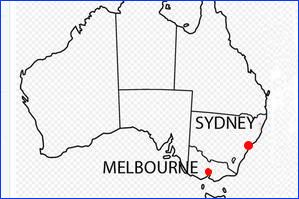 The rivalry between Australian cities Sydney and Melbourne is set to intensify, with a new report suggesting the Victorian city will overtake its brash NSW counterpart as Australia's largest city within three decades.
The main reason is that Victoria is attracting immigrants in record numbers and building new homes at twice the rate of NSW.
Currently there are about half a million more people in Sydney than there are in Melbourne - but that's destined to change, says the report's authors.
The study, which was done for a property developer lobby group, reveals that New South Wales faces a steady economic decline.
Australia has traditionally relied on its natural and mineral resources for economic prosperity. In that regard, Queensland and Western Australia have enjoyed boom periods in the past, while Sydney has revelled in its role as the country's centre of commerce.
Ironically for Sydney, it's the fact that the city's population is living longer that is contributing to its economic suffocation from 2020.
The report - entitled Going Nowhere, by forecaster BIS Shrapnel - shows NSW from 2020 onwards entering a downward spiral as the nation faces the demographic challenges of an ageing population - poor housing affordability, lower immigration, less workers, a diminishing tax base and "a greater likelihood economic growth will decline alarmingly".
Meanwhile, Melbourne is getting the infusion of new blood into its populace. It is seen as an attractive urban option for young families to move in to.
So Melbourne, with its long-term population growth of 1.3 per cent a year, will displace Sydney as Australia's largest city in 2037, says the report.
Sydney's growth per annum, which in the past has been about 1.1 per cent, is forecast to lag at 0.9 per cent.
BIS Shrapnel predicts Melbourne's population will climb to 5.7 million.
AUST CITIES - CURRENT POPULATION FIGURES:
1 Sydney 4,504,469
2 Melbourne 3,995,537
3 Brisbane 2,004,262
4 Perth 1,658,992
5 Adelaide 1,187,466
- NZHERALD STAFF