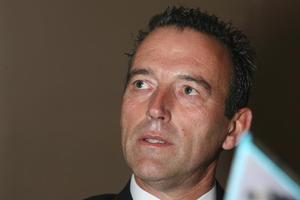 The enigmatic Graeme Hart is thought to be lining up his next move to float part of his packaging empire, but exactly how he will pull it off is still a mystery to those on the outside.
Australasia's richest man this week revealed plans to raise US$1.75 billion ($2.45 billion) to allow his Reynolds Group to acquire United States firm Evergreen Packaging and Carter Holt Harvey's Whakatane Mill, all of which are ultimately owned by him.
It seems an odd decision - to sell one part of your business to another. Apart from the extra billions it will add to Hart's already high debt levels, it must be a costly exercise.
But Hart has never been afraid of spending money to shape up his businesses.
Reynolds Group Holdings, a private company Hart created in October last year by renaming Rank Group Holdings, already includes the SIG Group - the Swiss firm Hart acquired in 2007 for $3.2 billion which makes carton packaging for everything ranging from milk to soups and sauces.
It also incorporates US food packaging firm Reynolds Consumer which makes tinfoil, plastic wrap and bags, and Closures - the largest maker of caps for carbonated soft drinks.
The company's accounts show Hart has already spent the last 18 months taking costs out of the business.
In 2009 he spent €32.3 million ($60 million) on restructuring, slightly less than the €37.2 million he spent the year before.
The accounts have been made available because some of Reynolds' debt is listed on the Irish stock exchange.
More cost-saving measures have been signalled. "Though we do not know the extent or exact types of restructuring costs that will be incurred, we expect that we will incur further restructuring costs in 2010," the accounts say.
Revenue for SIG - the largest of the three divisions - grew just 0.9 per cent last year to €1260.7 million while Reynolds Consumer picked up 1.8 per cent to €852 million. Closures was also up just 1.8 per cent comparing the same 10-month period.
Reynolds made a profit of just €11 million in the 2009 year for its continuing operations but it was an improvement on the previous financial year, when it made a loss of €158 million.
Speculation surfaced in February in the Australian Financial Review's Street Talk that Hart may look to exit part of his empire through an $8 billion float. The media-shy Hart will not comment on his latest move nor on his future plans for the business.
But industry insiders believe it is likely to signal consolidation in preparation for an exit that will net him enough cash to allow him to take the next step up.
One source likened it to selling a house in the current market.
If selling was the only aim it was a bad time, but if upgrading to a better house was the plan then what better market to get a good deal.
Hart certainly has a nose for a bargain.
The former tow-truck driver who left school at the age of 16 made his first big break when he bought the Government Printing Office for $23 million in 1990 - more than $20 million below its book value.
Since then, Hart has bought and sold businesses including Whitcoulls and Goodman Fielder.
In 1997 many thought the wheels were going to fall off Hart's wagon when he bought into Australian food group Burns Philp.
Hart paid $2.40 per share for an initial 20 per cent - a price that was seen as being top dollar. Within months of the acquisition, his shares were almost worthless and the company was in the hands of bankers.
But Hart pumped in more money and made his first billion. Since 2006, Hart has bought Carter Holt Harvey, Switzerland's SIG Holdings, Alcoa's packaging and consumer division, International Paper's beverage packaging unit and US drink carton maker Blue Ridge Paper Products.
His company Rank Group is the second-largest beverage packaging producer after Tetrapak.
Forbes most recently valued him at US$5.3 billion.
Hart's latest move will see Reynolds debt grow to $8.36 billion - a level that would exceed the $7.76 billion in equity invested in the business as of December last year, although the acquisitions would also inject more equity.
Some wonder if the likes of Forbes have overestimated his wealth given his present position.
Hart is not immune to making mistakes.
Carter Holt Harvey was a big converter of forestry to dairy farms at the height of the 2006 dairy boom.
Those farms have been up for sale for the last two years and have yet to shift.
At the same time, log prices have shot up to an 18-month high. It's hard to work out exactly how much Hart could have made had he kept the land in trees versus knocking them down.
Hart, like all business-owners, must have felt the heat of the economic downturn over the last few years.
But, despite debt levels, there is also a strong belief that the "smart, straight shooter" will be on target again.