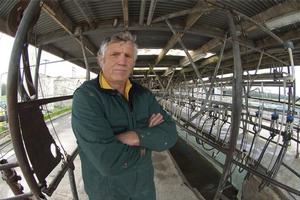 Receivers for the Crafar Group, once New Zealand's biggest privately owned dairy farms, have struck back at claims of rough treatment of the Crafar families and poor farm management.
Michael Stiassny of KordaMentha said the receivership was one of the most intense he has encountered and was of a "magnitude unparalleled in the industry".
The resource required to address the serious issues was "more than anyone could have imagined", he said.
The Crafar family owes more than $200 million to PGG Wrightson, Westpac and RaboBank after its four central North Island farms went into receivership in October last year.
Allan Crafar, Frank Crafar, Robert Crafar and their families are now refusing to leave their farms, despite being told to go by the receivers.
An offer from the receivers for six months' free rent in Rotorua, if they left the farm on April 9, was rejected by the Crafar family.
He said he was standing his ground saying "when you're right you fight".
Crafar claimed milk production had fallen 40 per cent this season, and that the farms needed to be returned to the people for the good of the country.
"If that is the way they want to run the country they may as well bugger off," he said.
"They're just thieves who are basically stealing all our money."
In addition to the dire state of the farms upon receivership, KordaMentha today said they have had to contend with "irrational behaviour" from the Crafars, including them helping to remove cows from the properties and refusing to leave the farms.
"We initially offered members of the family remuneration, however we withdrew this offer when it became clear they were not only being uncooperative, but in fact assisted in the removal of approximately 1450 cows without our knowledge," said Stiassny.
"Consequently we had no option to issue trespass notices and dispense with their services," he said.
Security guards had been hired to protect assets on the farm.
This came at a substantial cost, in addition to the loss of milk income from the cows removed before their return, said Stiassny.
Allan Crafar today told nzherald.co.nz that he rejected claims of ill treatment of animals, and removal of animals from the property as "total rubbish".
"It's a bit silly having an argument through the media, but that is the way it's going," he said.
Crafar said he would remain at the farm until the receivers "buggered off".
"They will try and hang onto their job which is destroying a bloody good business," he said.
Stiassny said receivers had overseen significant investment in management, infrastructure and systems to ensure the farms continued to operating through the next season beginning in June, and were in a good position to be sold as going concerns.
A number of properties had also been found to have significant animal welfare issues when the receivers moved in, Stiassny said.
"General comments made by MAF appointed consultants in the first two weeks of the receivership indicated that they considered a significant number of cows were either emaciated or in an unacceptable condition."
Stiassny said the receivership process had consumed "a huge amount of resources", with problems around specific claims of ownership and title to company assets. This had involved 'substantial legal costs'.
Legal proceedings were now underway to deal with pre-receivership contracts which were never settled or had resulted in certain claims over assets.
He confirmed that milk production was down on previous years, but the loss of 1,450 cows for a month during the peak of the season, poor cow condition, adverse climatic conditions and a reduction in the amount of leased land were "factors of note".
"As mentioned, this has been an exhausting and difficult process and we know that all stakeholders have been affected, including staff, contractors, the dairy industry, dairy farmers and the general public," said Stiassny.
"We have overseen significant investment in management, infrastructure and systems to ensure the farms continued to operate through the next season and are now in a position to be sold as going concerns."