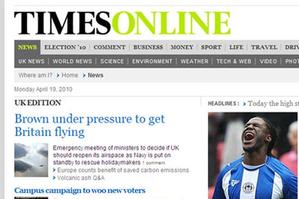 LONDON - In a way, one can't blame Gordon Brown for saying that paywalls won't work. In fact, to be precise, he seemed to be saying that they shouldn't work.
In an interview last week with the Radio Times, the UK Prime Minister opined that "people have got used to getting content without having to pay", before adding: "There's a whole sort of element of communication that's got to be free." The first part of what he says is true, the second highly contentious.
Most people have interpreted his remarks in the context of his deteriorating relations with Rupert Murdoch's The Sun which, having supported New Labour for many years, has turned on the party and Mr Brown with ferocity. Mr Murdoch has, of course, recently announced that, from June, online readers of The Times and Sunday Times will have to pay £1 a day or £2 a week. The Sun and the News of the World will follow later.
I don't at all mind Mr Brown having a pop at Mr Murdoch. The Sun has been very beastly to him. My difficulty is that the Prime Minister's comments undermine the whole newspaper industry. Just because readers have got used to reading papers online for free, it does not follow that they have acquired a right to do so until the end of time.
Gathering news costs money, sometimes a great deal of it. Mr Brown presumably does not expect Marks & Spencer to give away its clothes and food, so I'm not therefore sure why he thinks newspapers should give away their journalism.
What depresses me about this debate is that Mr Murdoch's critics - some of whom may be moved by atavistic political hatreds - have come up with no alternatives which have any chance of saving newspapers. They merely say that the online advertising model must be made to work without telling us how this miracle will happen.
The basic facts are these. As newspapers shed paying customers to the non-paying internet, they lose revenue, and are less able to support costly journalism. The longer the process goes on, the worse it will become. One can reasonably wonder whether Mr Murdoch's plan will work n whether enough people will pay for The Times and Sunday Times online when there are so many rivals continuing to offer their content for nothing - but surely one cannot reasonably dispute his right to try.
And what if he fails, as so many are predicting he will, invariably pronouncing that "Rupert does not understand the internet"? No one has come up with a Plan B. Maybe there isn't one. What then? Well, newspapers will continue to weaken until, in the end, no one apart from philanthropists and governments will be able to afford to publish them.
That is why all of us - including you, dear reader, who understandably does not want to pay - must hope that the 79-year-old tycoon succeeds.
Most media folk seem convinced he won't, and I must say my own inclinations lie in that direction. But I think all of us, the Prime Minister included, should be a little more humble.
Mr Murdoch is the most successful publisher of modern times, arguably of all times. Maybe he is growing a touch senile. Maybe he doesn't understand the internet. Yet he is still Rupert Murdoch, and his is the only game in town.
I for one am glad he is trying, and whoever questions his right to do so does not care for the future of a free press.
- INDEPENDENT