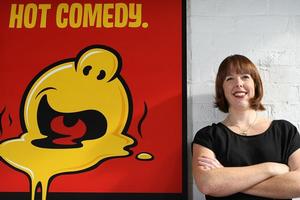 Making a buck on stage has seemed a laughable idea in a tiny market like New Zealand.
But comedians are hoping the 2010 NZ International Comedy Festival will be like last year, when the bad times were good for ticket sales.
Organisers say the 2009 festival earned more than $2 million - most of which went back to performers.
Festival director Kylie Aitchison said strong ticket sales coincided with tough economic times.
"We have no way to prove it but it seems like the recession has been quite good for us," she said.
"Last year we had a 50 per cent rise - the biggest increase we have ever had with 118,000 ticket sales across New Zealand."
With ticket sales averaging $20, that amounted to about $2.3 million.
"There is no question that people have accepted comedy - and that is more accessible than other theatre," Aitchison said.
"We picked up that there was so much doom and gloom in the media - people were keener to pick up lighter stories. As a result I think we got more press coverage as well."
Aitchison said the festival took about 70c from each ticket sold and, after marketing costs, put the money into a charitable trust.
It puts profits into development programmes for comedians, including helping them to understand the financial basics.
"Most comedians are owner-operators as far as business goes - they are by themselves so they have to do their own invoicing."
Under a new programme starting in August, the festival will be helping comedians make basic business decisions such as advising them what they can claim in tax returns.
"Like the fact that they can claim travel to and from venues as part of business expenses," she said.
"It's just helping them to be aware of business-related expenses."
Aitchison estimated about 50 comedians in New Zealand made a living from their craft. The most successful used a variety of skills, including blogging.
The festival kicks off in Auckland on Thursday night.