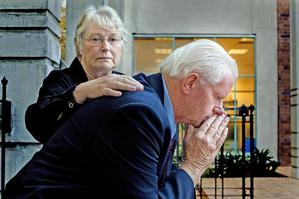 An investigation has revealed for the first time that mortgage documents for dozens of Blue Chip investors contained false information.
The information has been passed to the Serious Fraud Office and may lead to another legal challenge over the money owed after the collapse of the finance company.
More than 3000 people lost $80 million in the failure and have since been pursued for more money to meet financial obligations organised by Blue Chip and its associated companies. But the Herald on Sunday has learned that a review by Genworth Financial, which insured many of the mortgages, has uncovered widespread misrepresentation in loan documents
Genworth Financial insured many mortgages Blue Chip investors took out through GE Money. If Genworth can show the documents contain false information it could refuse to pay insurance.
The mortgages were offered through a company called Tasman Mortgages, which Blue Chip owned until 2008.Some loans allowed investors to borrow money without declaring income details.
Instead, they had to sign a declaration stating they could meet repayments.
Genworth hired international firm Risq Fraud and Security Management, which has contracted private investigators to review Blue Chip investors' loan files.
Advance Group reviewed 500 loan arrangements for Bay of Plenty investors. General manager Mark Keaney said investigators checked documents with investors "to ensure the information on the files was correct".
One key detail was the investors' occupation, he said. It played a big role in determining whether the loan would be approved, directly affecting bonuses paid to the mortgage brokers who arranged the deal.
"There were certainly a lot of files that did raise concerns," Keaney said. The inquiry meant the SFO had to be involved. "We spoke with them as part of our inquiries and supplied them with some information."
Dale said he had reviewed several cases which showed some misrepresentation, usually to allow investors to get mortgages for which they did not qualify. Other documents had been altered, with correction fluid clearly covering original details.
"There is no doubt there was a process of altering documents. The investors regard it as of great importance."
Genworth refused to comment about the investigation.
GE Money spokesman Tristan Everett said Genworth had not provided the company with any information about the investigation. He said the company continued to claim "on an ongoing basis" money from Genworth to cover losses on failed mortgages.
He said GE Money worked to identify "financially vulnerable" home loan customers.
"We are working with the people affected on an individual basis to find solutions acceptable to all parties," he said.
Left with the bill for mortgage mistake
Bruce and Judy Bartle owe $640,000 through failed Blue Chip schemes on mortgages for which they do not qualify.
The first time they saw their loan documents, Judy Bartle, 69, was "shocked" to see they were described as "self-employed investors".
And in a subsequent court case, the couple heard evidence that if the truth had been written - they were retired - they never would have been lent the money.
It was found they never filled in their occupation. That detail was not added until later - a detail they say they were oblivious to until it was too late.
In 2006, the Bartles took up a Blue Chip scheme to buy an apartment for $552,000.
They expected to get $451 a fortnight by mortgaging their freehold home to buy the apartment. The mortgage was arranged through Tasman Mortgages Limited, a Blue Chip-associated company, with the cash coming from GE Money.
But the payments stopped, then Blue Chip went into liquidation. They were left owing GE Money $5000 a month.
The couple, at the time, had a $21,000 a year pension.
Bruce Bartle: "When I looked at that piece of paper that wasn't filled in with our handwriting, that was what set the alarm bells ringing. We're not lawyers. I'm just a commercial cleaner.
"We should never have qualified, yet they gave us the money so willingly. How is it that we qualified for a loan under false pretences?"
The couple say the pressure was incredible. Bruce Bartle: "I nearly took my life one night, and Judy nearly took hers on another."
The outcome of the court case did not go the Bartles' way. The court found their Blue Chip-recommended lawyer Jonathan Mathias was negligent in failing to tell them that they carried the entire risk of the investment.
But it also found that GE Money could not have known the Bartles were unable to meet the payments. Lawyer Paul Dale has appealed.