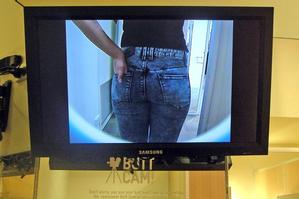 A clothing store has come up with a way of preventing women from asking their other half the age-old question, "Does my bum look big in this?" by introducing the "Butt Cam".
One of Australia's biggest, unisex jeans and casual wear retailers, Jeanswest, which has 27 outlets in New Zealand, has introduced cameras in some changing rooms which film shopper's bums as they try on clothes.
The customer stands in front of a full-length mirror with their back to a camera and the footage shows on a large plasma screen above them for everyone in the changing room to see.
A blurb on the mirror reads: "Don't worry, you and your butt won't end up on YouTube.
"The Jeanswest Butt Cam is not a recording device."
Walking towards the mirror or backwards, closer to the camera, sees the image zooming in and out from your behind.
The cameras, which were first introduced in the Christchurch outlet and are now in the St Lukes and Albany stores in Auckland, yesterday drew giggles from shoppers.
Devonport couple Georgia Cunningham, 19, and Matt Powell, 24, each bought a pair of jeans from Jeanswest in the Albany Mega Centre after inspecting their behinds in the Butt Cam.
"I think it's a cool idea," Ms Cunningham laughed.
"You can't usually see what you look like from that angle so this definitely helps you choose what looks good."
But her boyfriend said the camera would probably be more of an amusing thing for men rather than a tool to help them choose a good-fitting pair of pants. "It'd probably entice the guys, they'd probably see the butt cam and go 'Oh yeah, I'll give it a go'.
"But the girls probably take it a bit more seriously."
When Jeanswest introduced the cameras in Australian stores late last year, chief executive Stephen Younane said they were a "way to bring some fitting room fun to the experience of purchasing a pair of jeans" and alter the daunting fitting room experience.
The technology is thought to be a first in New Zealand changing rooms but has been seen in stores overseas for several years.
British chain Ted Baker has installed cameras and video screens and United States jeanswear giant Gap has trialled clothes with a radio frequency.
They could be "read" when brought into the changing room and suggestions of accessories to go with the clothes offered through a personal video screen.